New French jewelry brand, Le Buisson, debuts at Collette
Collette, a boutique located on the Rue Saint-Honore in Paris, just revealed a new luxury line of jewelry that's been more than a year in the making. Le Buisson was founded by Stéphane Arriubergé, Matali Crasset, Francis Fichot, Massimiliano Iorio and Michele Monory this year – all designers who have backgrounds in interior design and industrial design. The collection is composed of simple yet playful necklaces. From a glance, they look like modern shapes, but upon closer inspection, the admirer can catch the shape of a person or perhaps a man with a jet-pack. Other styles are simple gem stones held in their signature torch design, with the stone facing down the pendant.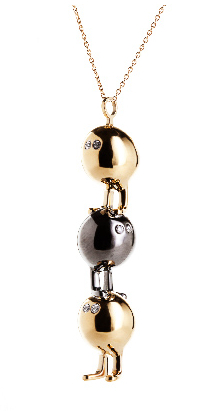 "We asked the designers to change the codes of jewelry, to make something that is a talisman for oneself," Monory told Women's Wear Daily. "In traditional jewelry, the stone is always facing the outside, to be seen. We wanted to bring the stone back to the wearer."
The 20 necklaces are just the beginning of more to come, said the designer, who hopes to offer rings in the near future.
Monory said the line will only be carried at the Parisian store, but international retail is a consideration.
Anyone interested in Le Buisson's designs can visit www.colette.fr.
Tagged in: fashion, jewelry, accessories, paris, france, collete, le buisson,