New York Fashion Week Fall 2012: Jenni Kayne
Jenni Kayne's laid-back, causal aesthetics effortlessly created chic looks positively made for creative cool girls. It was almost too easy to imagine editors, fellow designers and graphic designers running from meeting to meeting in Kayne's Fall 2012 collection. As reported by Style.com, the line drew inspiration from a "proper English gentleman's hunting wardrobe." The interpretation, however, was a loose one that pulled ideas from fuzzy fur hats, leather and tweed, which were then further manipulated to show Kayne's passion for the '90s.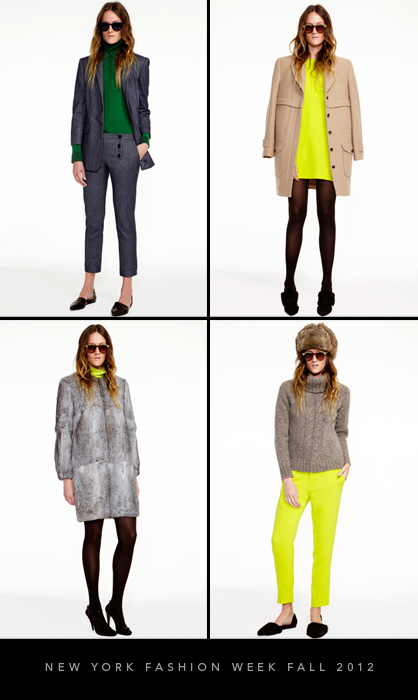 LadyLUX via Style.com
The New York Fashion Week presentation was a no-frills lineup that steered clear of embellishments and went straight for the good stuff. Kayne focused on boxy yet fitted silhouettes with a loosely tailored sense that were styled with flat, pointed-toe loafers or heeled options with fur – coolness at its best. Wool overcoats were layered over turtlenecks and paired with pleated shorts. Matching pant and blazer sets contrasted with blouses featuring pops of color or went with a monochrome style. The bursts of neon color on the blouses also made their way onto dresses and trousers, but were balanced with neutral tans or grays. Leather minidresses were stylishly combined with long gloves, tights and fur hats.
Eveningwear options didn't escape Kayne's understated sensibility. The designer created unconventional separates such as long, flowing sheer skirts and matching blouses in solids and matching florals. Airy feather skirts teamed up with tuxedo blouses in basic black or white for a dressier number that remained fuss free.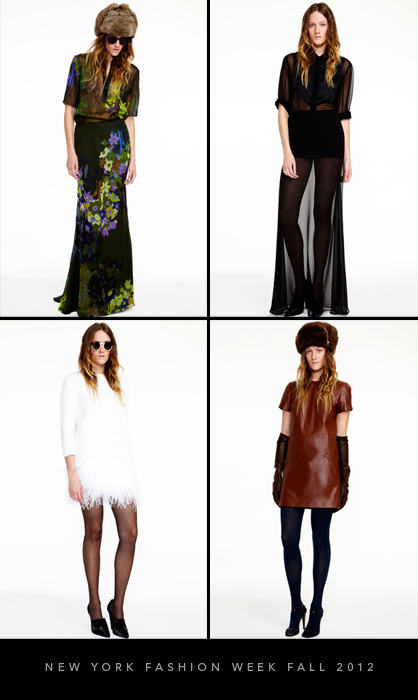 LadyLUX via Style.com
The collection was a proper follow-up to Spring's simple country-chic ensembles and took the Kayne girl to where she wants to go next: A look with a little more character but minus the troublesome effort.
This article was contributed Annette Tang of the Versastyle. You can follow Annette and her fashion adventures on Twitter at @theversastyle.
Tagged in: new york fashion week, runway, fall 2012, ready-to-wear, new york fashion week fall 2012, jenni kayne,