New York Fashion Week Fall 2012: Rachel Zoe
After five seasons as a bonafide fashion designer, Rachel Zoe has moved from simple presentations to a runway show at New York Fashion Week. The celebrity stylist/designer went all out for her first catwalk appearance, with 46 looks inspired by the '60s – her favorite decade. Her Pre-Fall collection also was influenced by the same era but in a Jackie Kennedy manner. For Fall 2012, the collection specifically drew from the London style of Mick Jagger and Marianne Faithfull.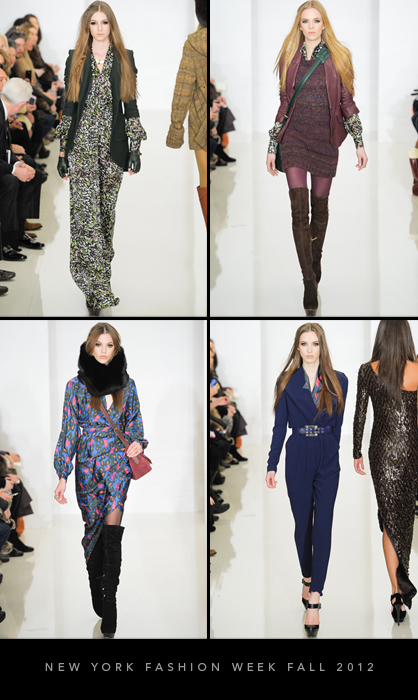 LadyLUX via Style.com
Zoe crafted an array of dresses, leather options, jumpsuits and, of course, her signature piece, the pantsuit, exhibited in a sultrier fashion than Pre-Fall's streamlined offering. The ensembles featured a more relaxed sensibility, communicated through the flowing shapes and layered cardigans or draped fur coats. Wool sweater dresses, abstract floral wrap dresses and sequin dresses, in both short and long versions, exhibited a slouchiness that appeared more effortless than sloppy. Leather shorts were paired with matching leather blazers and the bestseller flared pant was updated using the edgy material – a smart move on Zoe's part. The fans will be flocking.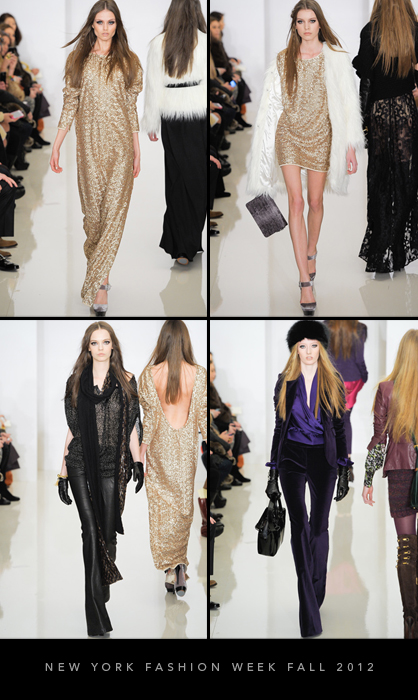 LadyLUX via Style.com
Her sought-after pantsuit has become one of those looks that we've quickly grown to expect from Zoe. The suit may have slight variations from season to season, but it only proves that one option just isn't enough. This season, Zoe presented the pantsuit in several variations and materials. Long tuxedo jackets or short smoking jackets were paired with well-fitted, tapered trousers. Pleated plaid trousers were combined with a matching vest. The signature flared pant, in purple velvet and charcoal gray, was matched with blazers and draped blouses. The suits were either monochrome or had pops of color from the blouses.
Zoe has continued to grow and mature as a designer, offering a little bit more with each season. But knowing her history as a stylist, it will still be without a doubt highly Zoe: very '60s and very glam.
This article was contributed Annette Tang of the Versastyle. You can follow Annette and her fashion adventures on Twitter at @theversastyle.
Tagged in: new york, new york, new york fashion week, runway, rachel zoe, fall 2012, rachel zoe collection, ready-to-wear, new york fashion week fall 2012,