New York Fashion Week Fall 2012: Thakoon
Every season is a new season for Thakoon Panichgul, and he always takes the opportunity to create a collection very different from the last. Last Spring, he took us on a colorful Bollywood and Western ride in bright-blue cowboy hats. In Pre-Fall, the designer warmed our hearts with sweet pastel blanket-printed wools and cocoon silhouettes in fuzzy Mongolian lamb. And now for Fall 2012, Panichgul has ditched the prim looks for something a bit more titillating, drawing inspiration from artists Ed and Nancy Koenholz's installation, which re-created Amsterdam's Red Light District.
The couple's artwork, "The Hoerengracht," paved the road for a sexy collection in a spray of red, fuchsia, tangerine, black, camel and gray. The sexy vibe though, did not exhibit the obvious clichés we've seen on so many runways. Panichgul created a clever take that used strategic keyhole cutouts on classic dress silhouettes, including hourglasses, A-lines and fitted versions. Circular cutouts formed basket-weave panels that stretched across bodices, either providing an overlay or showing some skin. Trench coat dresses received cutouts at the chest, accentuating the collar, while knee-high, lace-up boots were added for a sultry appeal.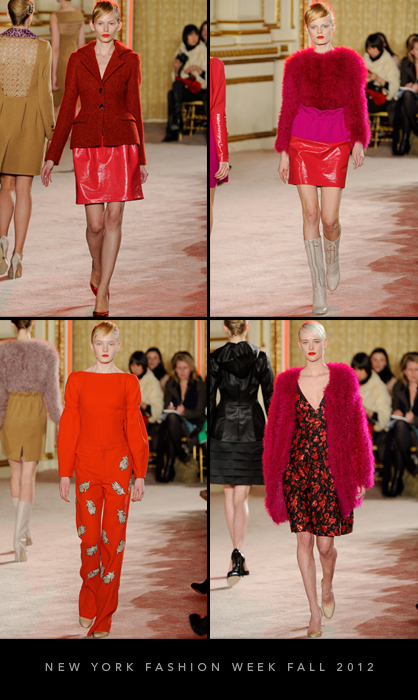 LadyLUX via Style.com
Panichgul continued the playful options with chubby, cropped Mongolian lamb sweaters; heart-printed dresses; and peacock feather-printed relaxed trousers. Dresses and satin pencil skirts exhibited a photo print crafted from the neon tube lights of the Red Light District.
And for those that don't appreciate his humor, the designer incorporated a few staples. Simplicity – by Panichgul's standards – was achieved with sleeveless hourglass dresses, wool coats, ruffle-front jackets paired with A-line duchesse satin skirts and leather blazers with built-in hoods. The designer kept the separates neutral for balance.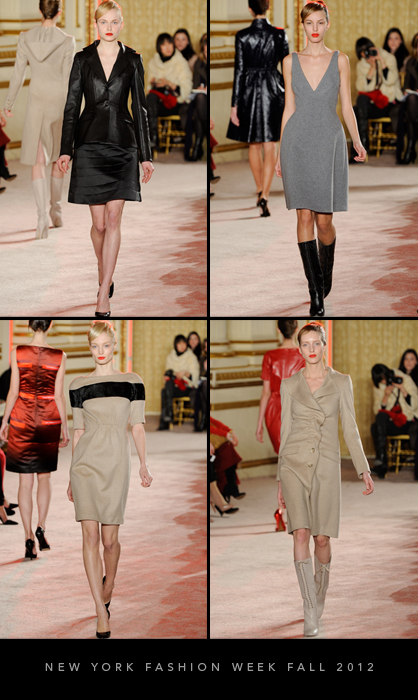 All together, the inspiration provided clever elements that only Panichgul's modern mind could dream up. While not every piece was perfectly flattering – the Mongolian sweaters really were chubby – it somehow just worked with this New York designer's vision.
This article was contributed Annette Tang of the Versastyle. You can follow Annette and her fashion adventures on Twitter at @theversastyle.
Tagged in: new york, new york, new york fashion week, runway, fall 2012, thakoon, ready-to-wear, thakoon panichgul, new york fashion week fall 2012,