New York Fashion Week Fall 2012: Theyskens' Theory
After only a handful of Theyskens' Theory collections, we've come to expect – and been spoiled by – clean, edgy separates that are impeccably styled in a "rocker-chic-meets-model-off-duty" kind of way. And if there's anyone to thank for the swoon-worthy collections, it's Olivier Theyskens. The artistic director already kicked off the season with a Pre-Fall collection that left us daydreaming about dark T-shirt and jean ensembles and reminiscing about the '90s. The dark vibes continued into Fall 2012 with a collection that captured the essence of Gotham City.
The concept of the fictional city didn't have anything to do with Batman, even though the two are quite synonymous. Theyskens translated the shadowy streets of Gotham into a sinister palette of black, slate, navy, pumpkin and dove gray for the modern sportswear ensembles. The looks featured tailored yet slouchy silhouettes in leather, suede, silk and over-dyed denim that will, without a doubt, have his fans in a frenzy – again. Doused in Theyskens' cool aesthetic, the line exhibited endless relaxed, pleated trousers paired with sharp jackets; chunky sweaters styled with shorts and hosiery; clean menswearlike outerwear; and mid-length, A-line skirts matched with belted tops. He also sprinkled in a few sheer tops, a trend from past seasons, and a gold bolero from Pre-Fall's rock-crystal motif.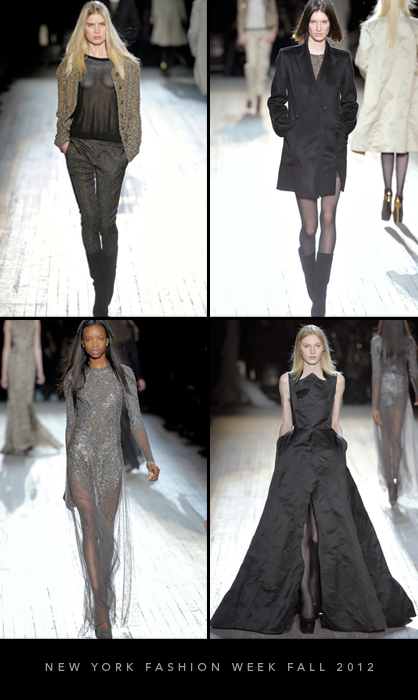 LadyLUX via Style.com
As successful as Theyskens' has been in the ready-to-wear arena, he has been equally accomplished with his footwear. The previous seasons have seen sold-out overlasted, ankle-strap, pointed-toe wedge pumps and cross-strapped versions, but this season, the designer changed it up. The pointed-toe was traded for a more almond shape and instead of wedge pumps, he chose pumps with a sturdy metallic plated heel and high throatline. Mid-shaft boots in heeled and wedge forms also appeared that will surely make it onto the season's must-have list.
Theyskens' also presented a few pieces of demi-couture – which he has tried before at a previous brand. This time around, the encrusted sheer gowns and black finale number with cutout neckline were well received by his followers. The ensembles offered dressed-up looks minus the stuffiness.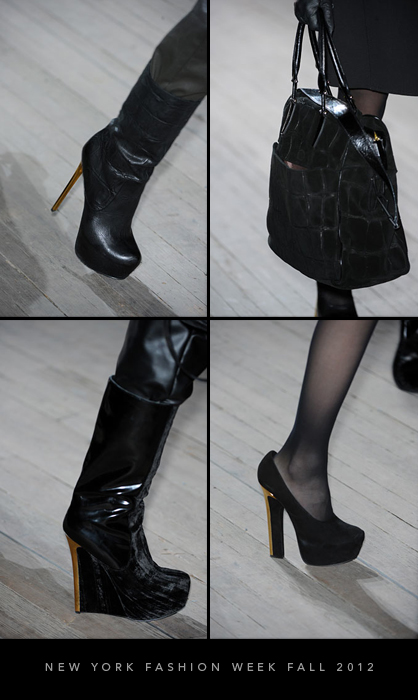 LadyLUX via NYMag.com
The introduction of the demi-couture, the relaxed fit trousers and the mid-shaft boots demonstrated just how well this designer knows the Theyskens' Theory girl and what she needs. And it's always something cool.
This article was contributed Annette Tang of the Versastyle. You can follow Annette and her fashion adventures on Twitter at @theversastyle.
Tagged in: new york, new york, new york fashion week, runway, ready-to-wear, olivier theyskens, new york fashion week fall 2012, theyskens' theory,