Sophie Theallet and Giles Deacon to design for Nine West
Nine West has announced that it won't just consult in-house for designs. The company is looking to collaborate with outside designers for a special project: Shoelaborations.
"This new platform will serve as a springboard for discovery and recognition of emerging talent, bringing a constant source of fresh product offerings to the marketplace," Stacy Lastrina, chief marketing officer of The Jones Group (which Nine West is a division of), said in a statement.
Images of the first collab have already hit the Web. Sophie Theallet, the 2009 CFDA/Vogue Fashion Fund winner, is the first designer to work on the project with Nine West. Her designs for Spring 2011 reflect her French upbringing and her free spirit, with a pair of chunky espadrilles, a ballet flat, a raffia wedge and a straw woven bag—perfect for a weekend in the Cote d'Azur. She also has designed accessories for Nine West: a charm necklace and bracelet.
Lastrina said the theme of Theallet's collab is "Sophie from Paris Takes a Trip to NYC."
"I love the couture creations Sophie Theallet is so well-known for and am thrilled to be working alongside a fellow French designer to create this imaginative collection," Fred Allard, Nine West creative director, said in a statement. "Our collaboration resulted in utterly chic pieces that will visually transport our customer to the French Riviera and are destined to become the 'it' items of the season."
Theallet said she's excited about the ability to reach a larger market and maintain her aesthetic.
"Partnering with a well-established footwear and accessories business such as Nine West has given me the opportunity to live out my lifelong dream of designing on a larger scale," she said in a press release.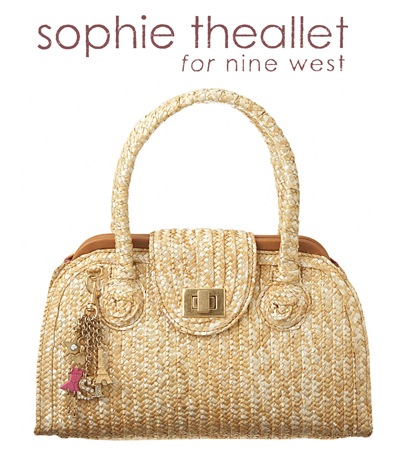 Playful British designer Giles Deacon will add his creative genius to Fall 2011. The award-winning designer isn't exactly up-and-coming. He's worked at Bottega Veneta and Gucci before starting his namesake label, GILES. In 2006, the British Fashion Awards celebrated his work by awarding him the Designer of the Year award.
Nine West has not released sketches of Deacon's line, but it does say it will be "cutting-edge in its incorporation of technology in a fashion-forward way."
For more information about "Shoelaborations," visit Ninewest.com. To see Sophie Theallet's shop, visit Ninewest.com/sophietheallet.
Tagged in: fashion, handbags, footwear, accessories, shoes, collaboration, nine west, giles deacon, sophie theallet,