NYFW: Pamella Roland, Carolina Herrera & 3.1 Phillip Lim S/S 14
Wrapping day 5 of New York Fashion Week, we're already creating our list of gotta-have trends for next S/S 14. Sheer fabrics, stark whites and metallics are topping our lists. Pamella Roland, Carolina Herrera and 3.1 Phillip Lim brought these trends and more to life with their runway shows.
Pamella Roland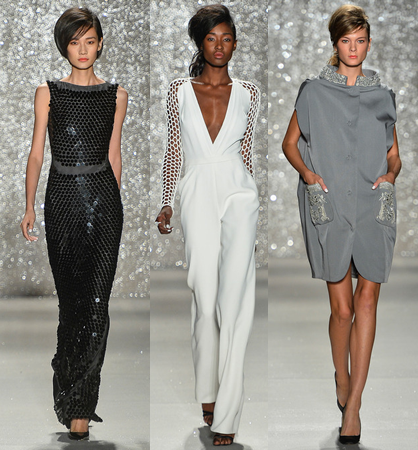 Pamella Roland's S/S 14 collection had a beautiful balance of eveningwear and ready-to-wear options. No matter the occasion for wearing her collection, silhouettes and accents were molded around the hexagon shape. A six-sided geometrical influence turned high-fashion. An assortment of sized hexagon embellishments created prints and accents to shoulders, exposed pockets, collars and encrusted entire looks.
Stone grey, stark white and deep black pieces set the foundation for soft yellows, blues, pinks and oranges to pop off of. Color-blocking gave a playful feel to the sophisticated line. Roland brought a beautiful assortment of pencil skirt and dresses, highlighting the hips and waistlines. Necklines were mostly wide, high and boat-neck. Trending mesh and sheer lace fabrics laid over simple, strapless dresses. This collection speaks to the modern, high-fashion woman.
Carolina Herrera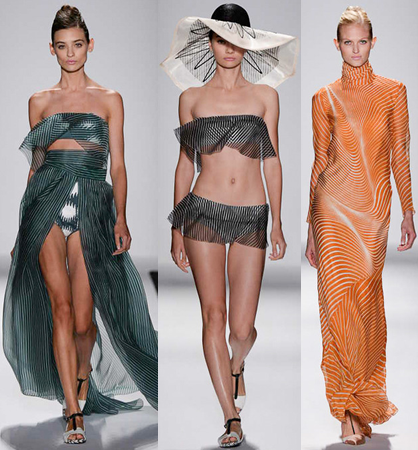 Carolina Herrera's S/S 14 collection graced the runways with her elegant style. Herrera took thin stripes and gave them a floating, wave-like feel. These stripes were wrapped around sheer and silky fabrics alike. Layers of fabric draped down the body with grace. Herrera also used layers to create a more structured, origami look. Sleeves cupped over the shoulders neatly, running straight down the arms.
The silhouettes in Herrera's collection were simple and most fell down loosely against the body. Thin belts accentuated a high-waist. Colorful buttons popped off the origami wrapped tops that were paired with relaxed trousers, cropping at the ankles. Herrera's collection sets the tone for the luxury market with rich colors: forest and mint greens, rich cranberry and a deep trending tangerine. This collection is very timeless, yet still modern.
3.1 Phillip Lim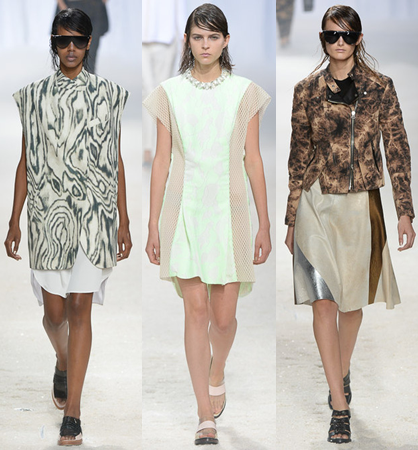 3.1 Phillip Lim took the crowd out of this world with his S/S 14 collection. It was a beautifully crafted look down at earth from space. Prints resembles granulated waves, wood grains and an acid washed print, turned high-fashion. Sheer and mesh panels of fabric broke up the unique prints, taking on the sheer trend for next spring. Uneven edges finished off necklines, resembling the ridged shapes of planets.
Earthy tones were dominant in the collection. Think olive greens and mustard yellows popping off deep black and ultra white whites. Metallic silver, blue, green and copper fused into prints, bringing the pieces to life. Over-sized tops were cropped just above the hip bones. Exposed zippers and tiny rows of studs embellished the pieces with a little bit of edge. Want something beyond your imagination and pushing the fashion envelope? 3.1 Phillip Lim needs to be on your spring wish-list.
Modern, clean silhouettes paired with prints seems to be the theme around today's shows. Follow along with us as we bring you more fashion from New York.
Read more NYFW
Tagged in: spring 2014, ss 14, nyfw, fashion week, runway, 3.1 phillip lim,