NYFW S/S 14: COLOR TRENDS
One of the key places to start start a season's wardrobe is with color. There's always a trendy color behind each season, for every woman's wardrobe. A playful lack of color with neutrals and whites is key for S/S 14. For the bold and bright, try punches of pastels, reds and blues. Come see which colors made their impressive marks on the S/S 14 runways.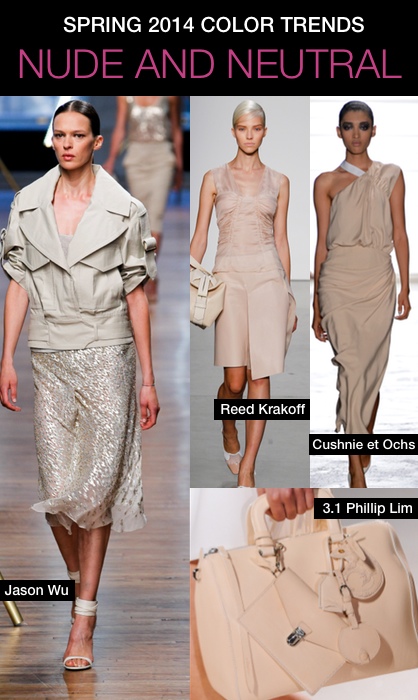 Softly sweeping fabrics floated down the runways in an abundance of neutral colors. There was a heavy play on mixing together the nude tones. The lack color radiated a warm, luxurious feel off the fabrics. Sheer, glistening neutral fabrics popped off structured pieces. Layers of nude fabric draped off the shoulders effortlessly, falling perfectly down the body. Neutral tone accessories created depth without overtaking the looks. This look is all about creating a rich, airy feel without needing any color.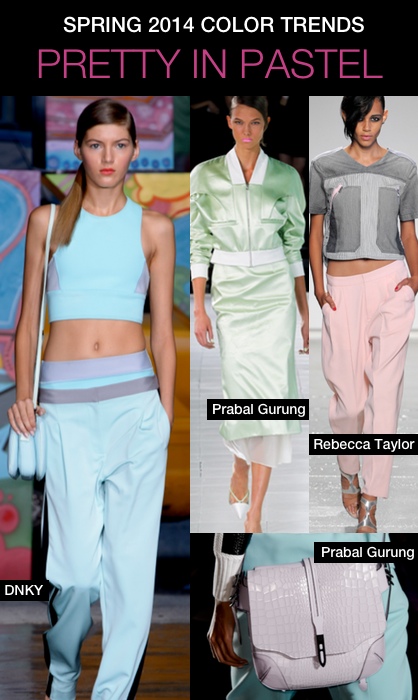 In contrast to the lack of color with hues of nude, pastels are a hot color trend for S/S 14. The more color, the better. Each variant had a 'dipped in milk' feel. The pastels were vivid with warm undertones. Mixing mutes together created the ultimate color-blocking sensation. The sweet, feminine colors had an edgy twist for spring. Cropped tops, relaxed trousers and track jackets turned up the heat for a sporty feel. Mix your pastels and wear them proud next season.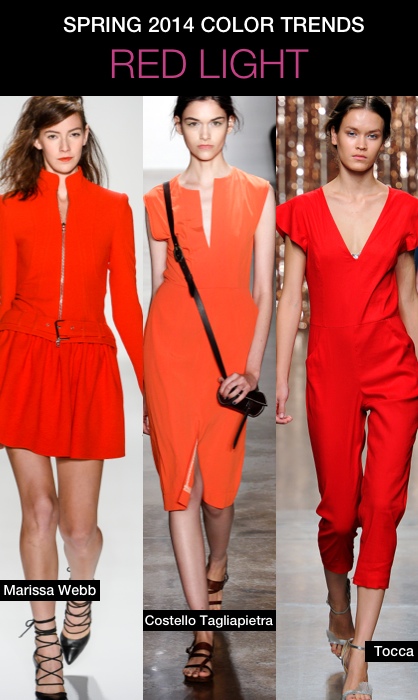 Sirens screaming and lights flashing, red is the power color continuing into Spring 2014. Hughes of red were worn from head-to-toe, demanding a double take. Flirty dresses and jumpsuits alike, the fabrics were bleeding in monochromatic punches of red. Red, known as the power color for women in business, is taking this energy onto the streets and making a statement. No matter the place or occasion, there's an all red look to radiate your style. Soft edges, exposed zippers and simple accessories complimented the bright glowing reds for next spring.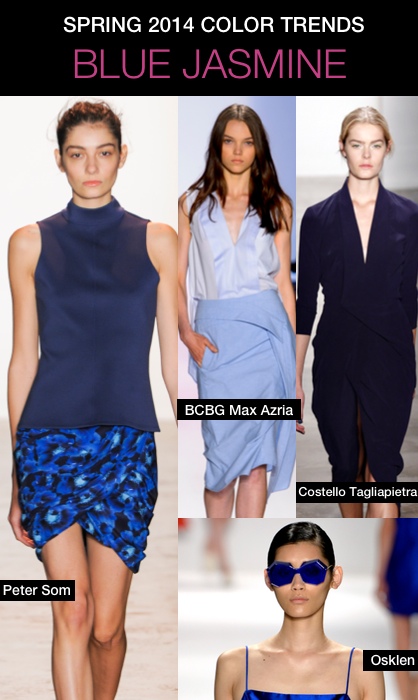 Hues of blues gave the runways an icy cool feel. From deep indigo to soft periwinkles, the blues set the tone of sophistication. Multiple shades of blue worn together created a play on depth. Sultry necklines and assymetrical hems, created intense appeal on the runways for this sometimes boyish color. All different shades of blue worked together to create edge. The tones are so bold that there's no need to pair your blues with any other color for a 'pop' effect. Blue is coming in a cheerful assortment of shades. So, don't go wiping your blues away just yet.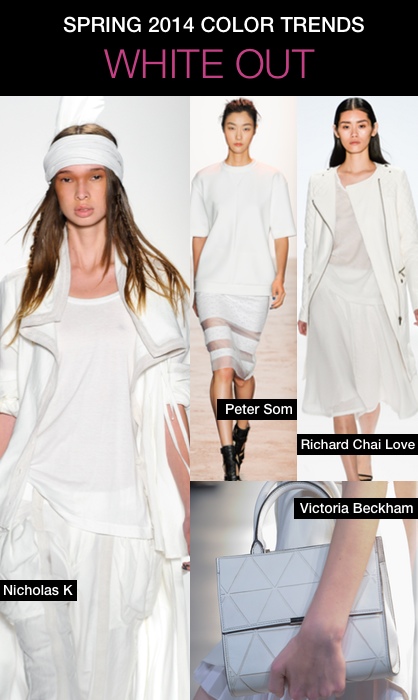 After seeing all the colors you need to add to your wardrobe don't forget the lack of color with white. White was the most used color across all runway collections for Spring RTW 14. The ultra-crispy color was everywhere. It's all about high- impact with white on white. From sporty looks to ultra glamorous pieces, white is the color to start adding into your spring wardrobe. Layers of stark whites were captivating together. Try the white-out look and leave the bright colors for the ammeters.
Tagged in: trends, ss 14, nyfw, runway, color,