NYFW: Rachel Zoe S/S 14
Rachel Zoe's triple threat status is holding strong with yet another season down the runway. Celebrity stylist, fashion brand owner and designer, Zoe continues to impress, bringing her glamorous bohemian style to life. We're melting over her interpretation of S/S 14 trends. Come see why.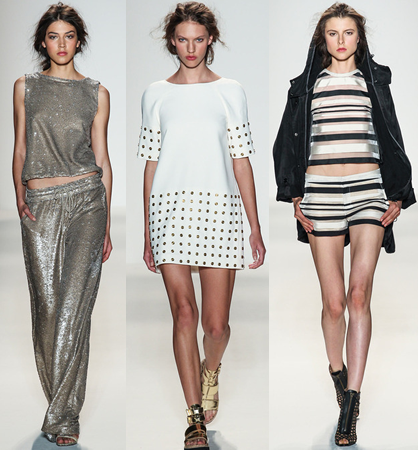 Zoe's bohemian chic woman is getting edgy. She's transformed disco gold looks into high-fashion pieces. A gold, sleeveless track suit? Yes please. Zoe's golden pieces were boxy, bold and clean. Sheer panels of fabric peeked through gold and black striped fabric. Stark white pieces were adorned in a gold dotted print. There was a golden look for every woman to embrace.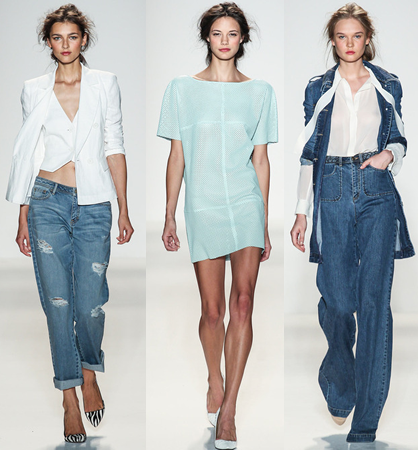 Zoe brought a relaxed feel to the runways with her denim pieces. They paired beautifully with simple sheer and cropped white tops. Simple glamour, for the everyday Zoe look. Keeping with her blue color story, perforated looks pranced down the runway next. The relaxed bohemian pieces were tailored perfectly, mixing structure and ease.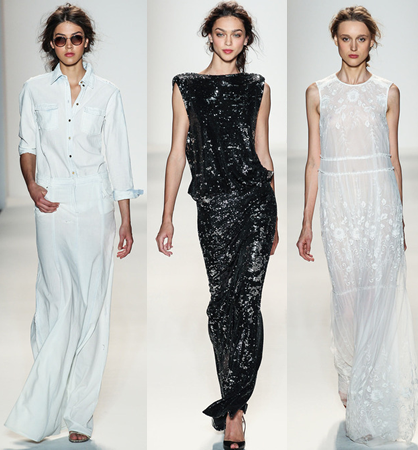 It wouldn't be a Rachel Zoe collection without maxi dresses. All of her maxi pieces were completely different. A black metallic fleck fabric highlighted Zoe's high-glamour side, while a semi-sheer lace and button up white look read casual-cool. High necklines and intricate details polished each maxi beautifully.
Zoe keeps reinventing the modern bohemian woman, season after season and we can't wait for more.
Read an interview with Rachel Zoe
Read more NYFW
Tagged in: spring 2014, ss 14, nyfw, fashion week, runway, rachel zoe,