NYFW S/S 14: Texture & Print Trends
Textures and prints were creating a landscape of themes for the S/S 14 collections. From sporty trims to bright floral prints, it's all in the details. Daring animal prints graced a safari feel while fringe accents created depth and texture. Come see which textures and prints you should be filling your closets with next spring.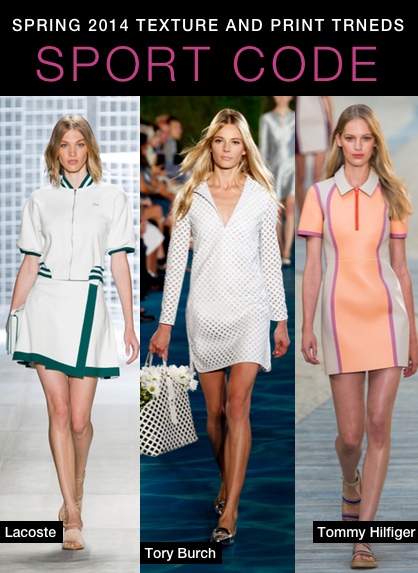 The sport code is all about taking influence from activewear, through styling, fabrications and trims. Neoprene fabrics are the perfect way to mix textures with a slight sheen and rubber-like active appeal. Mesh and perforated fabrics are touching on the airy look. Perforated fabrics were used all over the S/S 14 runways. The texture in perforated fabrics merges structure and ease. Racing stripes and contrasting trims polished off the sporty styling. The striping allowed for clean blocks of color and fabric changes through the garments. Get ready to channel your inner sporty side next spring.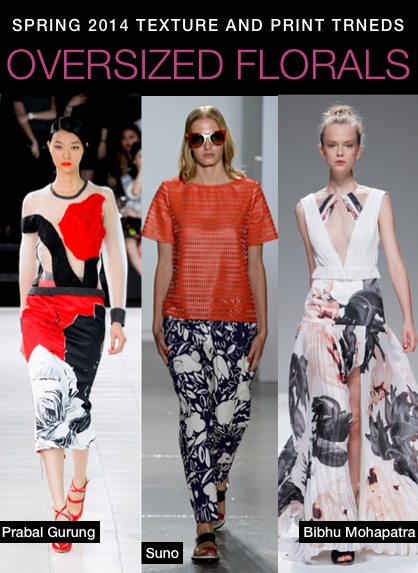 The traditional floral print is taking an exaggerated approach for S/S 14, with the larger the better. Scaling up in size, the flowers are overlapping each other throughout the prints. Other flowers are cut and spliced into layers, creating extra dimension. Floral prints are covering pant suits, skirts and dresses alike. Some floral prints are taking a more muted feel in black and whites, while many floral runway looks were dripping in bright colors. The bold, bright and beautiful flowers will be taking over your closets.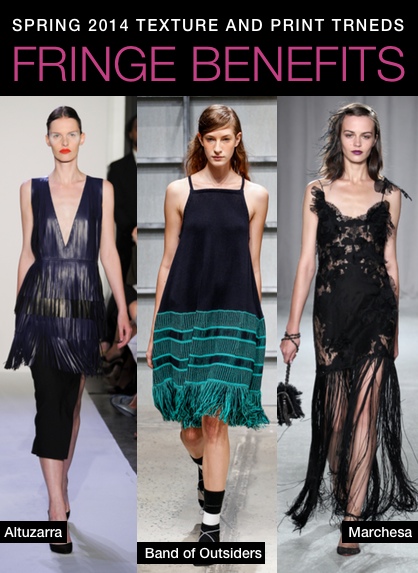 For a sassier touch, fringe is creating motion and texture on S/S 14 pieces. You'll see hand-crafted fringe on tunics, skirts and jackets. The elongate strands of fabric are adding instant volume to the looks. An edgy feel is created with the densely lined hemlines. Some fringe was added into the look for an uneven kick of style. Put a little fringe detailing into your wardrobe for a breezy, fun vibe.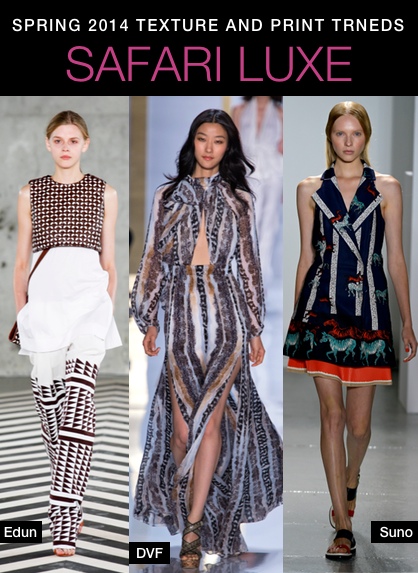 Luxury met the runways in a printed, safari feel for S/S 14. Micro-geometrical prints took on the landscape and environment of the safari. Using animal inspired prints, a complete "in the safari" experience was created. The safari vibe presents a mix of danger and beauty among the wildlife. Structured fabrics and silhouettes featured the wild side, while sheer printed fabrics captured the natural beauty. Channel the safari through prints and dramatic silhouettes next spring.
Read more NYFW
Tagged in: trends, spring 2014, nyfw, print, new york fashion week, runway, floral,