NYFW Spring 2012: Jason Wu
Street art has grown increasingly popular over the past decade, with artists not only showing their graffiti on alley walls but also in exhibits, documentaries, clothing and toys. For Spring 2012, Jason Wu looked to this unique style of art for some edgy creativity.
The designer was particularly inspired by Brian Donnelly, also known as the graffiti artist KAWS, who is most famous for his colorful, limited edition vinyl toys and streetwear. Wu and KAWS collaborated to create a flower-petal print mixed with the signature KAWS glove, a design that emerged throughout the collection, reported Style.com. Even with the wild inspiration, the young designer was careful not to take the art too literally and display all-over graffiti and instead, brilliantly integrated bright colors with exciting details and textures into the new charming line.
Wu's Spring collection was a color evolution. The opening series were shown in black, gray and white, then moved into black with light, flirty pink and gray with chartreuse. A group of blues followed, continuing into blacks and silvers and finally, a finale of all the colors combined. The custom flower-petal print flowed with the range of colors, appearing in black and blue.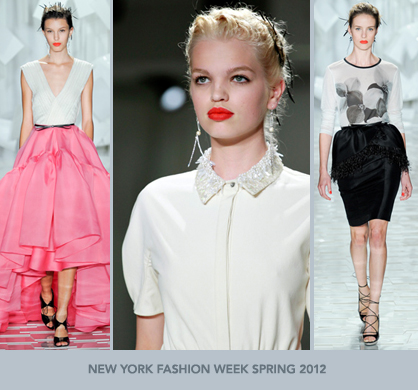 LadyLUX via Style.com
The colored groups worked to create an extremely cohesive collection. Shown in slight variations within each group, Wu created thigh-baring shorts, high-low skirts and dresses, collared blouses, sheer long-sleeves, peplum skirts, sleeveless tops and tapered-ankle trousers. The separates were well styled together. Collared blouses with high-cut thigh-baring shorts or trousers, high-low skirts paired with long sleeves, and dresses that borrowed detail elements from the tops and skirts combined for strong, ladylike visuals.
The true masterwork in the collection was the innovative use of material and embellishments. Taking a note from streetwear, Wu used nylon to craft lightweight spring outerwear. The nylon was nearly transparent in pink and chartreuse and moved like chiffon. The designer uniquely employed sheer mesh in tops, fashioning collared blouses with mesh shoulders juxtaposed with pleated fronts. Wu also combined mesh with prints, creating a peek-a-boo effect with houndstooth.
Adding depth and volume to the tops and dresses, pleats and overlay effects made their way down the runway. Peplum skirts with large ruffles accentuated the dramatic silhouettes.
Collars also received attention. Bringing the usually standard blouse neckline to life, Wu embellished collars with candy-shaped beads, in an effect he described as "old school techniques that looked electrocuted."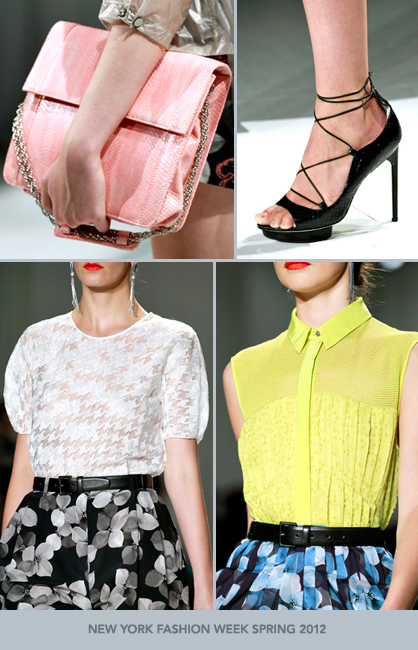 LadyLUX via Style.com
The finishing touches of accessories added the perfect amount of prim and proper. Leaving the hardware behind, looks were completed with thin, feminine belts tied into bows and black belts with matching black buckles. For footwear, Wu chose laced-up pumps and cutout platform sandals.
Although inspired by street art, Wu still stayed true to himself, creating a collection that exhibited his polished and sophisticated signature style. His ability to incorporate urban styles into runway looks is what keeps this designer constantly on the forefront of fashion.

This article was contributed by Annette Tang of the VersaStyle. You can follow Annette and her fashion adventures on Twitter at @theversastyle.
Tagged in: trends, new york, new york, new york fashion week, runway, spring 2012, jason wu, kaws,