NYFW Spring 2012: Runway Trends
With eight days of countless runway shows at New York Fashion Week, there were plenty of new trends and styling methods to get inspired by. Designers got creative this Spring 2012 with bold colors, giving classic pieces a twist and going a little extreme. The options may be a bit overwhelming, but luckily, LadyLUX has broken down the best runway trends just for you.
The shirtdress. The classic button-up is not so classic anymore. The menswear piece has been reinvented for the Spring 2012 season as the shirtdress. Doo.ri took a clean, ladylike approach with a crisp collar, belted waist and a slight, swinging A-line silhouette. Marc Jacobs interpreted the classic in different ways with his two lines. In Marc by Marc Jacobs, the button-up took on a casual and minimal feel with wide sleeves and a loose fit. In Marc Jacobs, the dressshirt was more progressive, featuring a vinyl wrap overlay and thigh-high socks.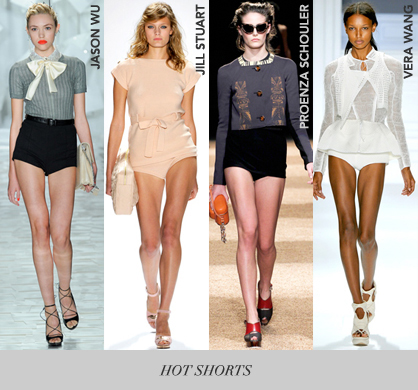 LadyLUX via Style.com
Hot shorts. When the weather starts to heat up, the shorts get shorter. Hot shorts appeared on many runways during New York Fashion Week, all in high-cut and high-waisted proportions. The '40s-inspired shorts – or possible bikini bottoms? –were styled neatly with fitted sweaters and cropped tops. Despite the thigh-baring, legs-for-days look, Jason Wu, Jill Stuart and Proenza Schouler kept it classy.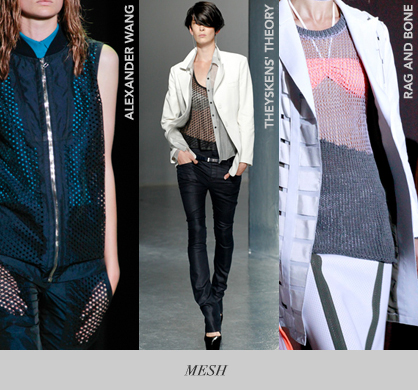 LadyLUX via Style.com
Mesh matters. Athletics wear it, and for Spring so did the runway models. The see-through mesh material gave a sporty yet sexy vibe to many runway looks. Alexander Wang's NASCAR-inspired collection utilized navy mesh in jumpsuits with pockets worn over bright shirts. Rag and Bone and Theyskens' Theory's looks went more daring with the athletic-inspired material. Mesh tank tops were worn over simple bras and halters and finished with a blazer for a chic, downtown appeal.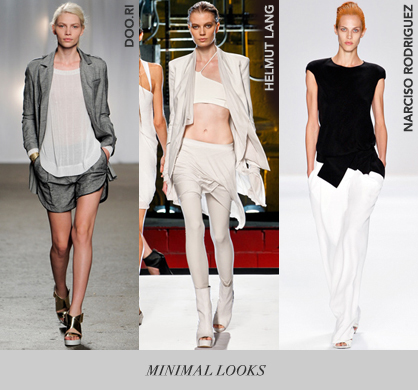 LadyLUX via Style.com
Minimal. The minimal trend is the fresh answer to all the days of over-embellishment. Simple colors of white, black, nudes and grays are 'fuss-less." Lines were streamlined or naturally draped. Helmut Lang, always an advocate for minimalism, blended draped blazers with fitted bandeaus and leggings for a clean look. Narciso Rodriguez chose slouchy trousers with a structured top, and Doo.ri was effortless with loose-fitting tees, blazers and shorts.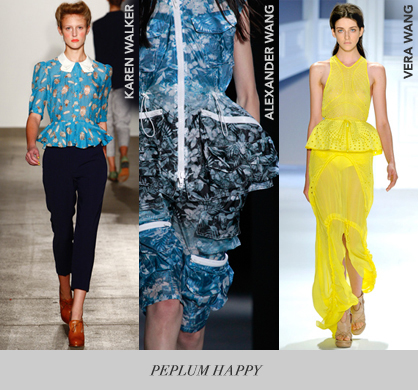 LadyLUX via Style.com
Peplum happy. Peplum silhouettes are taking over the runway. The little voluminous flair is easily turning into a must-have trend for 2012. Peplum tops appeared in several shows, including Karen Walker and Vera Wang. Walker's version was kitschy with a preppy collar and insect print, pairing a top with cropped skinny trousers. Vera Wang went glamorous with her silhouettes, creating a tank and long maxiskirt ensemble. Alexander Wang took an inspired route of the silhouette and mimicked the look with large, airy pockets on jumpsuits.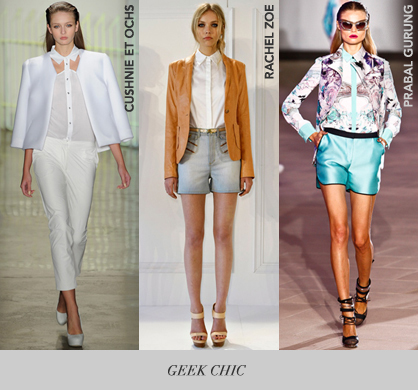 LadyLUX via Style.com
Geek chic. Button-up shirts may be morphing into shirtdresses, but regardless, the classic is still here to stay and is getting geeky for the Spring. Whether cutout, printed or in its usual white standard, the button-up was styled by buttoning it to the top. No more leaving one or four buttons undone or worn with a relaxed fit. The button-up is best geek chic and this style was perfectly demonstrated by Cushnie et Ochs, Prabal Gurung and Rachel Zoe.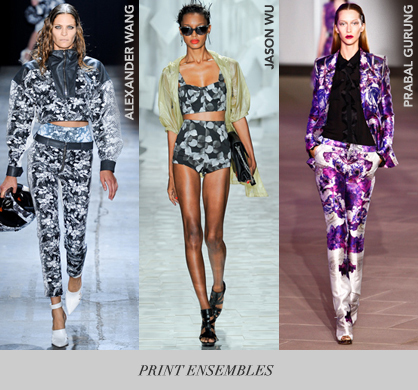 LadyLUX via Style.com
Print ensembles. This Fall, we've seen color-coordinated looks, but Spring takes it to the next level with print ensembles. Designers took florals, graphics, or striped tops and blazers and matched them with pants and shorts for a bold head-to-toe look. Alexander Wang's moto suit consisted of a flower-print racing jacket with cropped pants, while Jason Wu matched hot shorts with a shrunken tank for a retro vibe. Prabal Gurung's purple brocade suit with corresponding blazer and slacks was sharp and showed statement dressing at its best.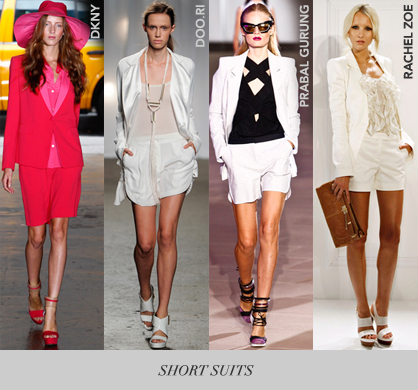 LadyLUX via Style.com
Short suits. It's time to suit up -- in Spring shorts! Just because it's warm outside doesn't mean a put-together suit look is out of the question. This season it's all about pairing matching blazers and shorts. Short suits looked fresh in pinks and whites. Flirty rose colors appeared from Jenni Kayne and DKNY, who chose bubblegum pink and hot pink, respectively. Staying airy, Rachel Zoe and Doo.ri styled white jackets with white tops and white shorts.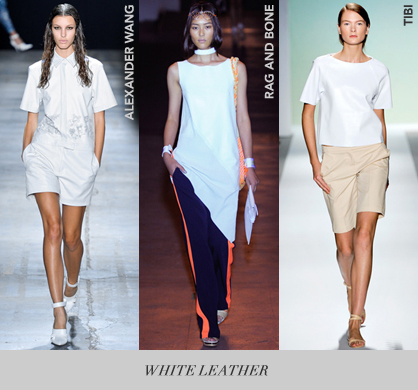 LadyLUX via Style.com
White leather. Black leather has been a staple for countless seasons, and brown leather has always been an easy alternative. Spring 2012 brought in white leather for a new, pure vibe. White leather appears on the runway in T-shirts, button-ups and long, asymmetrical tanks. The material fed an effortless, understated cool as shown by Alexander Wang, Rag and Bone, and Tibi.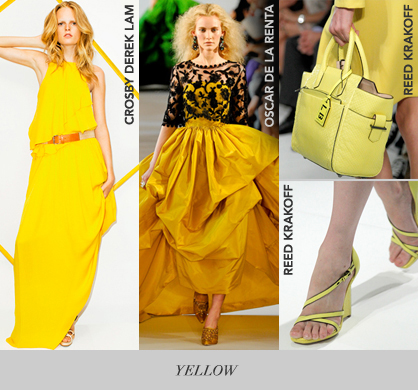 LadyLUX via Style.com
Color me yellow. The sunshine color glowed on runway in cocktail dresses, gowns, skirts, pants, blouses, handbags and footwear. You name it, and it's in yellow this season. Designers loved the bright color for head-to-toe looks or paired with white, black, tan or prints. Although vibrant, yellow worked well as a neutral tone or as a pop of color. Standout sunny looks came from Oscar de la Renta with a voluminous ball gown with black lace bodice overlay and 10 Crosby Derek Lam's belted, halter, pleated maxi.
This article was contributed by Annette Tang of the Versastyle. You can follow Annette and her fashion adventures on Twitter at @theversastyle.
Tagged in: trends, new york fashion week, spring 2012, runway, runway trends, guide, yellow, peplum, print ensembles, mesh, white leather, minimal, hot shorts, shirtdress, geek chic, short suits,