NYFW Spring 2012: Thakoon
Thakoon Panichgul's Spring 2012 collection is one of those collections that only a serious fashionista can pull off as ready-to-wear. Similarly to his Fall line that drew from Versailles rococo and Kenya's Masai tribe, Panichgul went with multicultural inspiration for his Spring looks when paisley prints took him around the world, reported Style.com. The designer's globetrotting left him with his sights set on merging the Wild Wild West with India.
The bold collection married the two distinct cultures together, combining bright colors, embellishments and trims from India with fancy footwear, shirts and hats from the Western cowboys to create silhouettes evoking both worlds.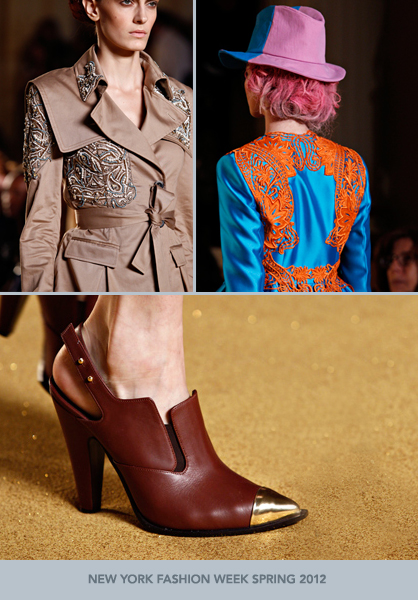 LadyLUX via Style.com
In the wild west, Panichgul created pleated dresses and skirts in vibrant, blue and orange prints. Skirts were paired with blazers embroidered with contrasting paisley, imitating vests. Western button-up shirts held the fort in inspiration, transformed into shirtdresses with long-sleeve and sleeveless versions and tops with ruffled skirts paired with gold-trim khakis. Looks were finished with two-tone cowboy hats. And, of course, it would be the West without cowboy boots, or some version thereof. The traditional boot was reinvented into a choked-up, pointed-toe mule slingback finished with a metal toecap.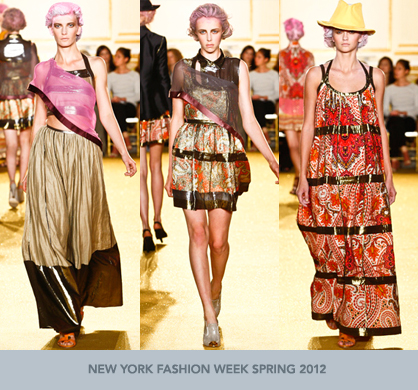 LadyLUX via Style.com
Panichgul went Bollywood with his details. Paisley prints and embroidery appeared in nearly every look in blue, yellow, green and red orange. When there wasn't actual print, there were floral patterns created by intricate beading on bodices and trench coats. Gold was displayed in trims, collars and bands that encircled pants, skirts and dresses. Long trapeze dresses took a note from the traditional sari, the cloth dresses from India, with scarves draped across the body in a customary fashion.
All details and distractions aside, fresh styles stood out in the collection, including Bermuda shorts and peplum silhouettes.
The collection was, without a doubt, daring yet fun and imaginative – which is what happens when worlds collide and Panichgul is behind it.

This article was contributed by Annette Tang of the VersaStyle. You can follow Annette and her fashion adventures on Twitter at @theversastyle.
Tagged in: trends, new york, new york, new york fashion week, spring 2012, runway, thakoon, thakoon panichgul,