OC housewife Lynne Curtin goes global with couture line
After becoming an "OC housewife" and having her life filmed on camera, Lynne Curtin, and, later her jewelry designs, became a sensation. Bravo's hit reality television show "The Real Housewives of Orange County" pulled Curtin into the spotlight in Season Four, allowing her to reveal her jewelry designs to the public.
"If it wasn't for 'Housewives,' I wouldn't have the confidence to go further," Curtin revealed.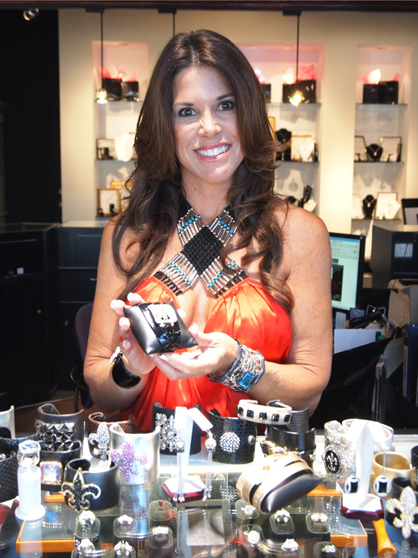 LadyLUX via Marisa Machak
Her line, aptly named Lynne Curtin Designs, includes fine jewelry, cuffs, accessories and bedding. As she adds more and more collections, her designs have continued to flourish.
Growing up overseas and collecting jewelry pieces from India and Thailand, Curtin says her love for jewels began at a young age.
"My mom bought jewels from Thailand. She had this emerald ring. I was always so amazed and obsessed with this ring," she recalled.
It was during her childhood that Curtin discovered her interest in designing and creating. At the age of seven, she made her first purse for a second grade class project. "I remember feeling so accomplished," she reflected. But it wasn't until eight years ago that her jewelry designs truly started to come alive.
She started out by making her own wrist cuffs from old pieces of leather that she would buy from garage sales. During "The Real Housewives of Orange County" shows, she would bring cuffs to her girlfriends' dinner parties to show and sell. She frequently shopped for herself and her affluent girlfriends, wanting to find pieces for everyone to wear for reasonable prices. This formed the impetus for her own line of cuffs.
From the show's fame and the other housewives' word of mouth, her jewelry soon became in demand. Plated with gold or other metals and stylized with studs and Swarovski crystals, each leather-wrapped cuff displays a charm, chain or iconic emblem such as the fleur-de-lis.
"The cuffs are bohemian glam. They have a rocker feel. I like big chunky jewelry. I like young, fun. I love crowns, crosses and studs," the designer said. According to Curtin, the must-have piece in her collection is "The Utopia" in silver and gold.
As Curtin's cuffs became more popular, she decided to add matching purses to her collection, creating a purse, jewelry, dog accessory and bedding line to appeal to the masses.
"My designs bring a whole new feel, uniqueness. There is something for everyone. They give a rich look with the affordability," she said.
Beyond her signature cuffs, rings, necklaces, and earrings, she has designed for men, producing cuff links, unisex necklaces and wrist cuffs. She has also delved into accessories with fringed purses and clutches, belts with emblems and 24-karat gold dog collars.
Curtin reports she draws inspiration from early parts of her life, daily ideas, iconic emblems and her two daughters, Alexa and Raquel, after whom many of her pieces are named.
"I look through magazines, even older magazines, and vintage stores. I get ideas from fabrics, plates. I'll just get intrigued by something. I'll cut things off and use them. My designs are intended for all ages, from 10 to 100. My mom wears my cuffs," said Curtin.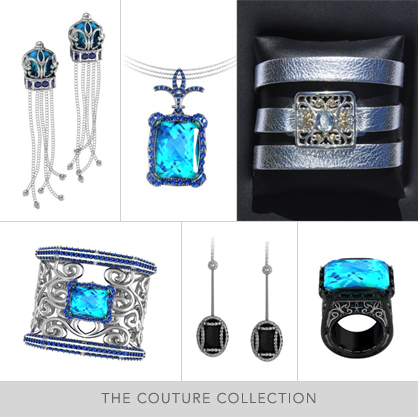 via LadyLUX
Her newest jewelry line, the Couture Collection, features sterling silver and gold-plated pieces with genuine diamonds, sapphires, onyx, topaz and amethysts.
"I always wanted to do high-end. I always did just Swarovski and now diamonds. Diamonds are a girl's best friend," she said.

As Curtin's cuffs became popular, she could no longer supply the demand by continuing to make each cuff on her own. She made a website to sell her designs and started attending many trunk shows to sell her wares. Soon she was selling to Canada, the United Kingdom and Australia.
To help with the demand of her jewelry pieces, her next move was to team up with Orange County's South Bay Jewelry, now the exclusive manufacturer of Curtin's couture jewelry line.
"Lynne Curtin Designs is merging with South Bay Jewelry. We are merging the designer and business worlds. We bring a lot to Lynne's collection. She's the one behind her designs. They are so unique," said Gina Watson, owner of South Bay Jewelry and now co-owner of the Lynne Curtin Designs Corporation.
Both Curtin and Watson have plans to expand the entire collection, intending to sell designs in retail stores and try for showcasing on the Home Shopping Network.
"We do a lot of business through the e-commerce and the trunk shows," Watson said.
The famous have stood up and noticed her items. Curtin has attracted attention from celebrities, including Cheryl Tiegs, who bought a purse, and Sarah Jessica Parker, who was given a cuff on the "Andy Cohen Show."
Curtin intends to keep designing and eventually expand further into candles and home accessories to accompany the bedding.
The designer has definitely used her reality television show to her advantage: The show has helped transform her design dreams into reality.
"For me, it's fun. It's my life. To me, it is not work. I could do it 24/7. It is truly my passion and my guilty pleasure. I wish I would have done it sooner," Curtin said.
Shop all of Lynne Curtin's designs at www.shoplynnecurtindesigns.com.

Tagged in: lux exclusives, jewelry, cuffs, curtin, oc housewife, lynne curtin, south bay jewelry, the real housewives of orange county,