PFW: Balenciaga, Carven & Balmain S/S 14
Jackets are key pieces in the S/S 14 collections, with boxy quilted versions, bombers and motos all making an appearance during Paris Fashion Week. Retro styles were strong contenders on the runways, with designers opting to focus on crowd-appealing pieces rather than the over-the-top 80s excess of the past.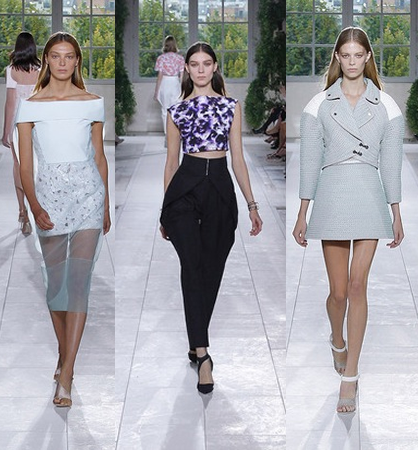 Bare legs, short hems and chic sportswear were the key looks on Balenciaga's S/S 14 runway. The designer's architectural style loosened up to produce black-and-white rubber printed knit crop tops and an excellent new high-waisted pant with a tulip-shaped peplum curving over the hips. Jackets were worn as short dresses and draped with a sheer organza veil. Next spring, during the day the Balenciaga girl will be wearing sporty streetwear such as hand-braided leather mini skirts, crisp white poplin shirts, moto-jackets, muscle T-shirts and glorified running shorts. At night, elegant silk cape-back tops and corset dresses with poufs of ruffles will set the scene.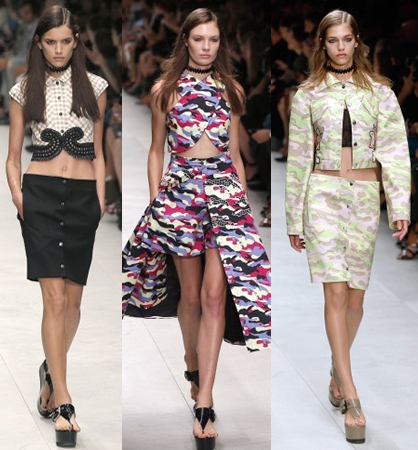 Moving ahead a decade was Carven, with camouflage and gingham, the prints du jour on this S/S 14 runway. Heavy-duty floral cottons gave the two-piece suit a new look with an oversized bomber jacket and shorts, while the designer opted to turn raw silks into loose, collarless coats and cocktail suits. Knee-length pencil skirts, waist-accentuating dresses and goth designs were popular, but traditional black was mostly replaced with pinks and camo for a girly vibe. Cropped tops and button-detail mini skirts were easy to wear and will surely be seen on the Carven girl next spring and summer.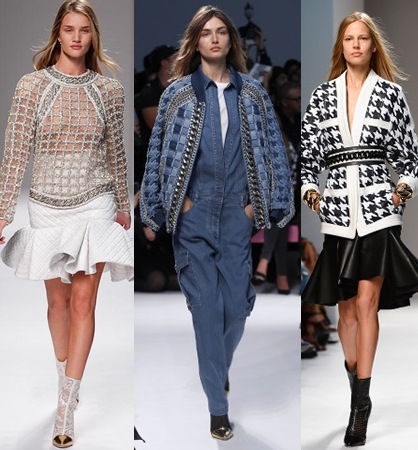 Over at Balmain, a tribute to the 80s was in full swing for S/S 14, with a plethora of houndstooth, gold chains and bomber jackets. Model and actress Rosie Huntington-Whiteley garnered nearly as much attention as the clothing, with her appearance on the runway in everything from a pastel quilted skirt-suit, a gold-buttoned bomber jacket over loose leather trousers, and a roomy leather jumpsuit. The main prints were checks and houndstooth, along with plenty of denim. Off-the-shoulder tops, mini skirts with raunchy ruffles and gold-capped mesh ankle boots were also key components to going retro Balmain style.
Read more Paris Fashion Week
Tagged in: trends, spring 2014, ss 14, pfw, fashion week, runway,