Paris Fashion Week Fall 2012: Christian Dior
Since the departure of John Galliano, Christian Dior has been searching for a new vision. Pre-Fall offered hope for a new direction as Bill Gaytten excited the fashion world by giving the house a much-needed makeover. The designer went through the archives to recreate a classier, more modern Dior in a fresh lookbook that happily circulated the blogosphere. But just when we thought he was getting his stride, Fall 2012 felt "safe" once again. Gaytten reverted back to a conservative but pretty lineup of ensembles with "soft modernity" as the theme.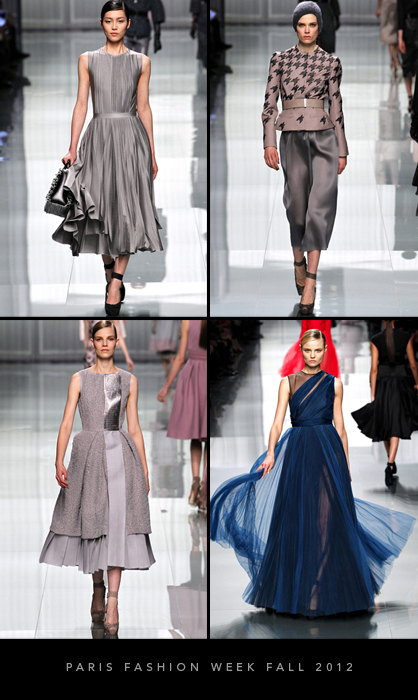 LadyLUX via Style.com
Presented at Paris Fashion Week, Gaytten's collection colored within the lines of Dior's tradition of ladylike looks in a neutral palette of cream, champagne, rose and nude with a few pops of cobalt and oxblood. There was a focus on fitted A-line and hourglass silhouettes that were displayed in knit dresses, mid-calf skirts, peplum jackets and slim trousers. Femininity was further established with tiered chiffon skirts paired with wrapped cardigans and sheer pleated evening gowns.
To play against the soft notes, Gaytten added contemporary details by incorporating twisted knots in classic portrait necklines, abstract houndstooth materials, wide fur trim panels on coats and contrasting stripes on dresses. Looks were completed with fitted knit caps and wide leather belts for a bit of edge. The collection also boasted black leather dresses and tunics, which felt new for this designer.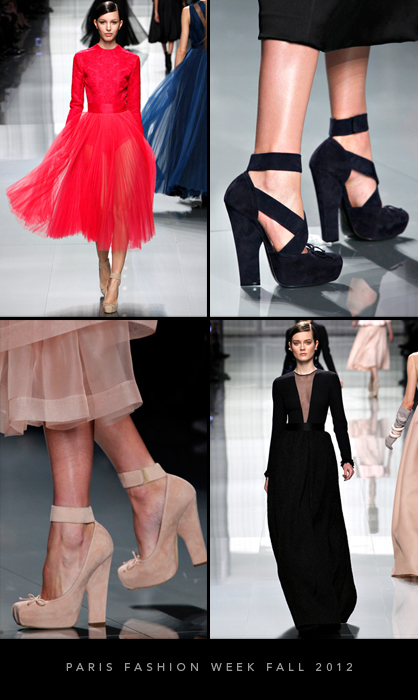 LadyLUX via Style.com
Possibly the most noteworthy part of the collection were the shoes. Inspired by ballet slippers that coincided with the program notes of "ballet femininity," pumps featured a solid heel and squared toe shape that felt novel. Gaytten created a handful of versions that included suede or leather materials in an ankle strap silhouette or wide crisscrossing strap pattern that truly projected the ballet.
As we wait for Gaytten to get comfortable with his role as designer and create a truly inspiring collection, he is at least smart enough to stick with the house's classics rather than try to recreate Galliano's over-the-top aesthetic. Hopefully, we don't have to wait too long.
This article was contributed by Annette Tang of the VersaStyle. You can follow Annette and her fashion adventures on Twitter at @theversastyle.
Tagged in: paris, runway, fall 2012, paris fashion week, christian dior, ready-to-wear, bill gaytten, paris fashion week 2012, paris fashion week fall 2012,