Paris Fashion Week Fall 2012: Lanvin
The Lanvin Fall 2012 presentation was more than just a runway show; it was a celebration of Alber Elbaz's ten-year anniversary with the fashion house. During his tenure, Elbaz revitalized Lanvin's reputation and created its image in the luxury high fashion arena that we are accustomed to today. It is through his vision that the oldest fashion house glitters with impeccably constructed gowns that are as classic as they are modern, something that only he can achieve with such ease. Naturally, Fall's collection embodies everything Elbaz stands for: vibrant colors, elevated shapes, remarkable technique through the use of technology, lavish materials and embellishment and a bit of fun.
Opening the show at Paris Fashion Week, brilliant shades of teal, plum, pumpkin, crimson and Klein blue appeared on sculpted dresses with peplum silhouettes and ruffled neckline sheaths. The palette quickly turned shadowy with black, inky navy and rusted gold, but the well-constructed ensembles didn't falter.
LadyLUX via Style.com
Knee-length pencil skirts embraced the body showing off hourglass shapes. Coats with rounded shoulders were luxurious in wool or fur. Fit-and-flare minidresses were voluminous but structured and seemed to defy gravity. Matching sets in embossed-laminate-coated materials gave cable knit looks an unexpected touch. Elbaz amped it up further with wildcat belt buckles. And, in a very opulent Lanvin manner, cocktail dresses were embellished with giant jewels in an all-over pattern.
The last segment of the presentation boasted over-painted floral prints, a cabbage rose motif and intarsia-ed furs that truly showed off Elbaz's expertise with materials and fit. He didn't hold back on the flouncy over-the-top ruffles, the lace-appliquéd cocktail dresses or the oversized pendants here. The designer went for it and the results paid off.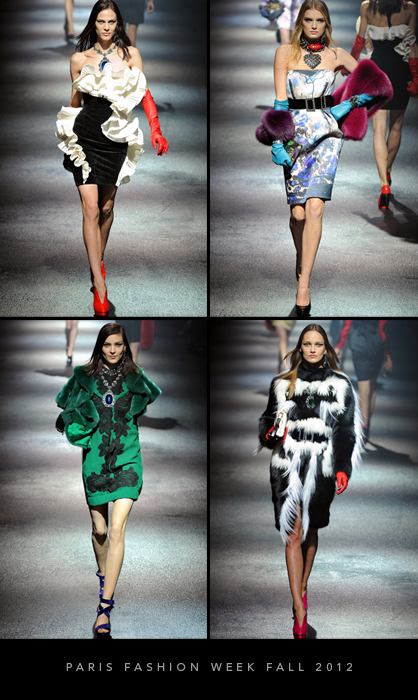 LadyLUX via Style.com
The 10-year celebration was a well-deserved one for Elbaz. His skill and ability to dress women to their best will most likely take him through another decade. Congrats, Alber.
This article was contributed by Annette Tang of the VersaStyle. You can follow Annette and her fashion adventures on Twitter at @theversastyle.
Tagged in: paris, runway, lanvin, fall 2012, ready-to-wear, alber elbaz, paris fashion week 2012, paris fashion week fall 2012,