PFW: Barbara Bui S/S 14
Barbara Bui brought a cool play on minimalism with her attention to details. Clean silhouettes, unique textures and soft colors graced the runway at Paris Fashion Week. Come see what had the front row captivated with her S/S 14 collection.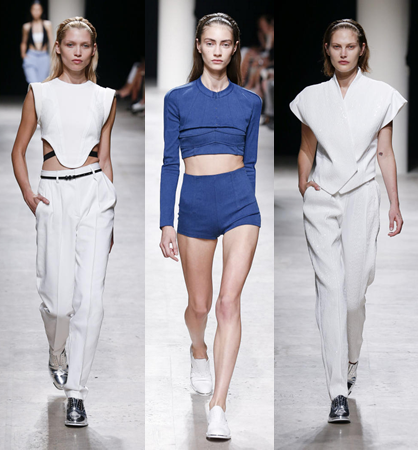 Barbara Bui's silhouettes were very sleek. Sleeveless jackets and tops extended off the edge of the shoulders with a dramatic sliced-off look. Bui brought crop tops in many different forms. Most of the crop tops gave a wrapped-around-the-body look, with unique strap detailing at the ribs. For pants, the waistlines are going to be high. The tailoring at the waist is perfectly molded to the body, just above the navel. Shorts were body-con and short, while pants were slightly tapered down to the floor.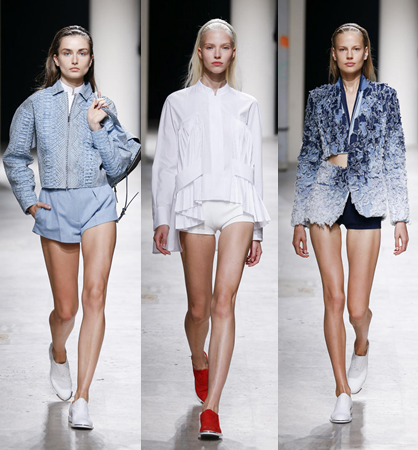 Bui brought out an abundance of texture to the minimalistic collection. Raw-edged appliques adorned jackets creating an ombre effect. For a more subtle but luxurious look, Bui used snakeskin fabrics. The look was very structured and clean. Pleats started at the natural waist of jackets and fell down softly over the hips. Both short and long jackets came down the runways with pleats, gracefully giving movement to the looks.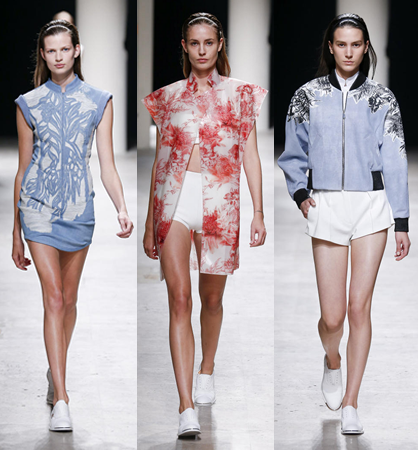 The floral print was beautifully 'painted' on the collection. Bui used drawn on floral prints in an assortment of ways. Two-tone pale blue and smoky white merged together to gift a 3-dimensional feel to her floral prints. All-over floral prints popped off the runways in lipstick red and crisp whites. For an edgier feel, Bui used moto floral print on the shoulders of jackets. The mix of different floral prints polished off her sleek collection beautifully.
Read more Paris Fashion Week
Tagged in: trends, spring 2014, ss 14, paris, pfw, runway, barbara bui,