PFW S/S 14: Comme Des Garcons & Jean Paul Gaultier
Comme Des Garcons and Jean Paul Gaultier wrapped up the weekend at Paris Fashion Week with captivating S/S 14 collections. Nothing you expected, but everything you now need in your spring wardrobe was on these runways. We're melting in boxy shapes, sheer fabrics and basic colors. Come see why.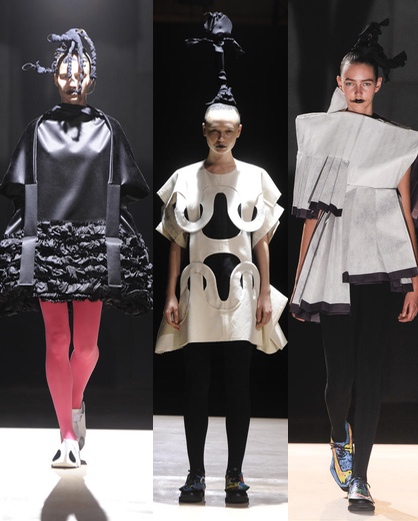 Not all fashion translates into the everyday looks. Comme Des Garcons pushes the envelope every season, making you think beyond what you ever imagined. This spring, they're proposing an assortment of excessive details. Both ruffles and asymmetrical pleats gave the avant garde dresses a feminine touch. Garcons' key silhouettes were trapeze tops and full skirts. Interlocking black, white and bubblegum pink fabrics created depth and a puzzle-like pattern. Channel the unexpected details in your style for spring.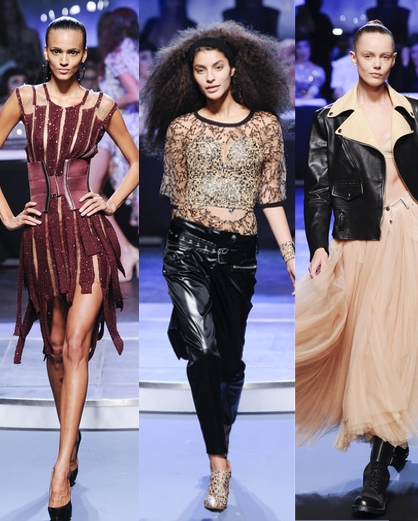 Jean Paul Gaultier also brings a edgy sense of drama to his collections. For spring, Gaultier took the moto jacket trend and added a scoop of glamour. Lace, silk chiffon and leather merged together for the ultimate, luxurious sex appeal. Fringe-like strips of fabric lined the body, cinched in by wide belts. Bandeau corset tops layered under sheer t-shirts for a peek-a-book feel. We're thrilled to amp up the glamour and biker chic look next spring.
Read more Paris Fashion Week
Tagged in: trends, spring 2014, ss 14, pfw, runway, paris fashion week,