Paris Fashion Week: Lanvin S/S 14
Lanvin was anything but bashful with their colorful collection at Paris Fashion Week. They made a bold statement for S/S 14: dripping in liquid love. A mix of playful silhouettes and fabrics brought the collection to life on the runway.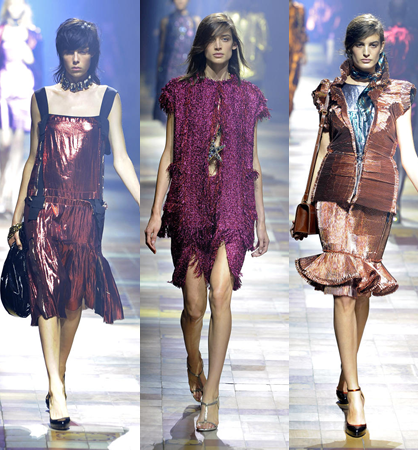 Lanvin took it upon themselves to drip the runway in liquid metallics. The lights reflected off every curve and ruffle as the models commanded attention. They used tinsel chiffon, foiled leather and lame fabrics to get the perfect shiny effect.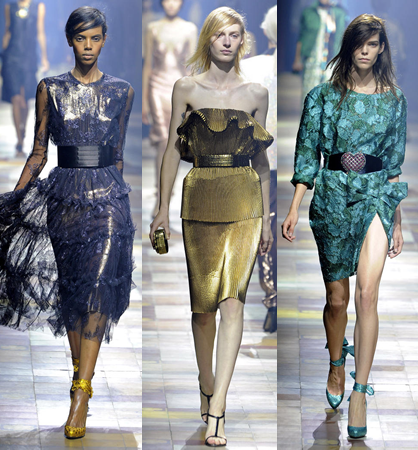 Playing off the metallic pieces, Lanvin used an assortment of rich textures in their collection. Micro pleats clung to the body in a liquid gold fabric. Sheer lace fabrics were layered up for a flowing, ruffled look. Both brocades and jacquards were used for a heavier, warm feel. To mix up the abundance of liquid fabrics, dot and floral prints created a playful, feminine accent.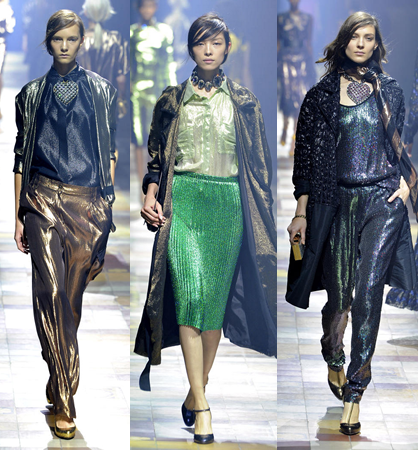 Lanvin brought a beautiful mix of silhouettes down the runway. Pencil skirts were the prominent shape, accenting the hips. They also took a borrowed-from-the-boys approach with a collection of trousers. Sitting at the low waist, liquid trousers draped softly down the body, tapering at the ankles. Jumpsuits were a playful punch to the collection. Long, sweeping jackets paired over looks to add a sultry, eveningwear feel. Looks like we're going for the liquid looks next spring.
Read more Paris Fashion Week
Tagged in: trends, spring 2014, paris, pfw, fashion week, runway, lanvin,