PFW: Maison Martin Margiela S/S 14
Maison Martin Margiela's S/S 14 collection lit up Paris Fashion Week. The looks were heavily embellished and dripping in rich colors. An assortment of looks came together in an unexpectedly dramatic collection.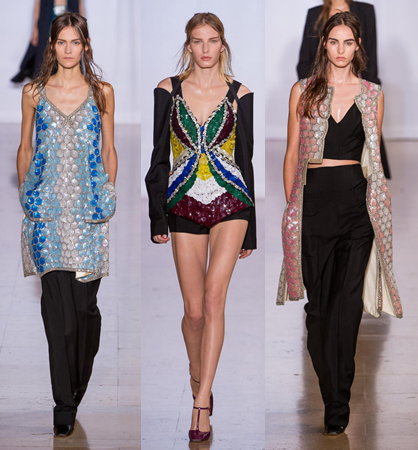 Margiela's pieces were adorned in a colorful assortment of embellishments. Crystalized circular pieces gave dresses and sleeveless jackets a fish scale feel. Other pieces were encrusted with beading details. The beads created a stained glass look. This collection was all about strategic embellishments and rich pops of color.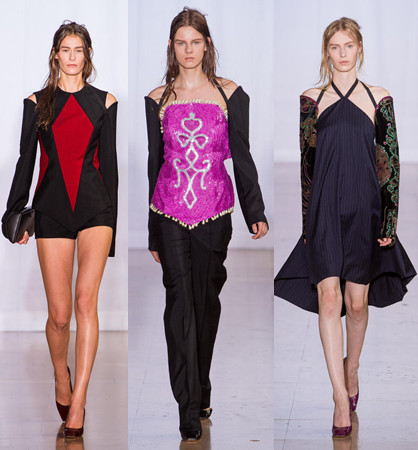 Detached sleeves were demanding a double take as the models came down the runway. Inserts of the shoulders were exposed, while the long sleeves strapped onto the body. Hourglasses figures were trending in Margiela's collection. Corsets and form fitting tunics modeled this silhouette.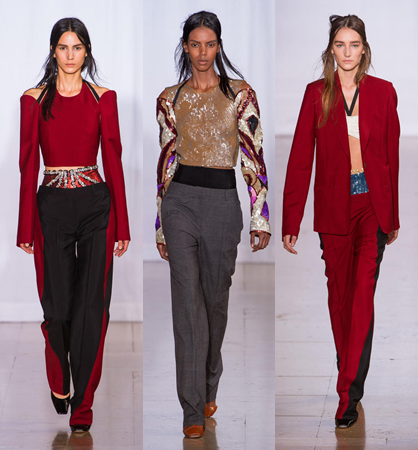 Margiela also took on the trending borrowed-from-the-boys feel. Loosely hanging trousers were held on by thick waistbands. Many of the waistbands were embellished with stained glass beading, while others were sleek and solid colored. A rich color palette set the tone for a luxurious vibe. Ruby, copper, electric purple and black merged jewel tones into spring.
Read more Paris Fashion Week
Tagged in: trends, spring 2014, ss 14, paris, pfw, fashion week, maison martin margiela,