Pre-Fall 2012: Balmain
Under the new reign of Olivier Rousteing – this is his third official womenswear collection - Balmain was looking slightly different. The line was still easily recognizable as Balmain, but it exhibited a cleaner sensibility. The lines of the silhouettes found sharper yet relaxed intensity, and overall, it didn't have the over-the-top fuss of previous seasons. Rousteing has transformed the Balmain woman into a more put-together, more matured and, yes, a more chic and polished lady. The Pre-Fall 2012 collection found stimulation from St. Petersburg and Russia's impeccable Imperial Palace.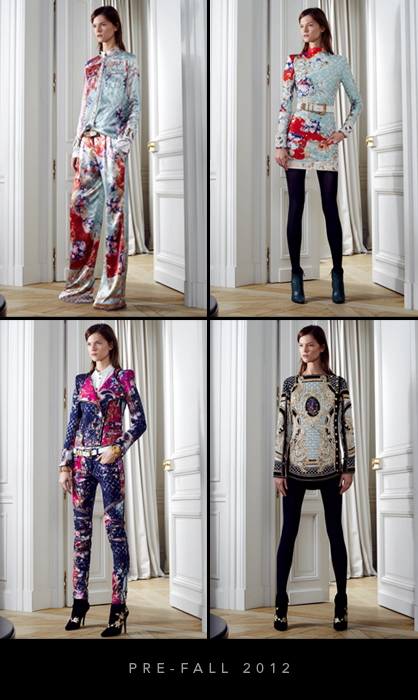 LadyLUX via Style.com
With such a grand, spectacular source of inspiration, the collection could easily have come off as tacky, but through the classy lens of Rousteing, a timeless set of 25 looks was delivered instead. Using a melodramatic palette of mainly dark tones with pops of deep green and blush and bright watercolor prints, the talented designer crafted an endless round of must-haves pieces. Oversized yet structured double-breasted blazers were detailed with opulent gold buttons and cuffs and paired simply with opaque leggings and booties. Fitted, floor-length skirts with thigh-high slits were styled with sleek turtlenecks and cinched at the waist with gold buckle belts. Minidresses with strong, bold shoulders came in both prints and solids, while wallpaper patterns from the palace walls adorned long-sleeved short tunics.
Skinny, fitted pants were just as prominent as wide-leg pants. A number of different jacket and coat looks boasted skinnies in white or colorful prints and easy-to-wear solid tones. Wide-leg pants were effortlessly stylish and appeared in quilted silk, lush velvet or a loose pajama pant choice featuring the watercolor print. Rousteing's refined taste pleasantly shined through all the ensembles.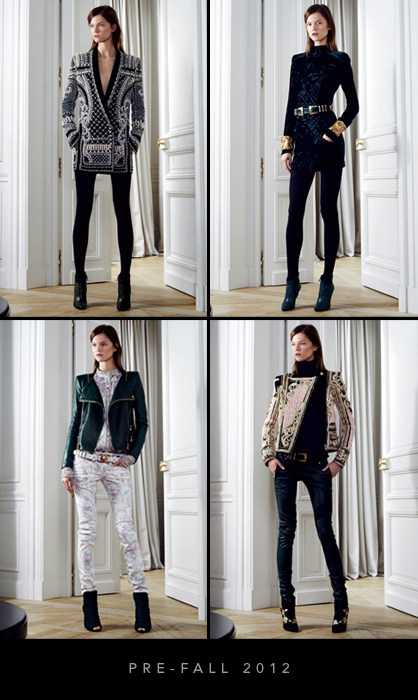 LadyLUX via Style.com

The collection is indeed an excellent one that will both excite old Balmain fans and ignite new ones. With his sophisticated aesthetics, it's shocking that Rousteing is only in his mid-twenties. But if at this young age he already understands the concept of timeless fashion and has the eye of a design veteran, we should only expect lust-worthy goodness from this Frenchman.
This article was contributed by Annette Tang of the VersaStyle. You can follow Annette and her fashion adventures on Twitter at @theversastyle.
Tagged in: paris, runway, balmain, olivier rousteing, pre-fall, pre-fall 2012,