Pre-Fall 2012: Chanel
Designers frequently time travel through the various iconic decades or continent hop across the globe to search for inspiration and find something fresh and unseen. For Pre-Fall 2012, Karl Lagerfeld set his sights on the rich culture and dynamic style of India, as reported by Style.com. But the resulting collection wasn't a Bollywood production by any means. In typical Lagerfeld fashion, the designer took note of key details from India and gave them a Parisian update with the Chanel classics: wool tweeds, cap-toe boots and, of course, the famous quilted chain-strap bags.
LadyLUX via Style.com
India and Paris may be thousands of miles away from each other and a world of difference apart, but Lagerfeld worked his magic and created cohesion. The Paris-Bombay theme was illustrated with draped silk tunics layered over bootlike leggings, fitted sleeved dresses, wrapped tulip skirts over skintight trousers, wool cropped jackets, loosely fitted blouses paired with pajama pants, embroidered overcoats and a finale of embellished gowns.
While the looks appeared very Chanel-esque, the details and silhouettes hinted at Indian culture. With draped tunics and gowns, Lagerfeld evoked traditional saris. The streamlined coats, A-line silhouettes sheaths, skirts layered over trousers and shin-length skirts all shadowed the style of Indian woman. Even the sleeves in the collection told a story, with capped versions, wide elbow-length and poet sleeves, all inspired by different versions of the sari.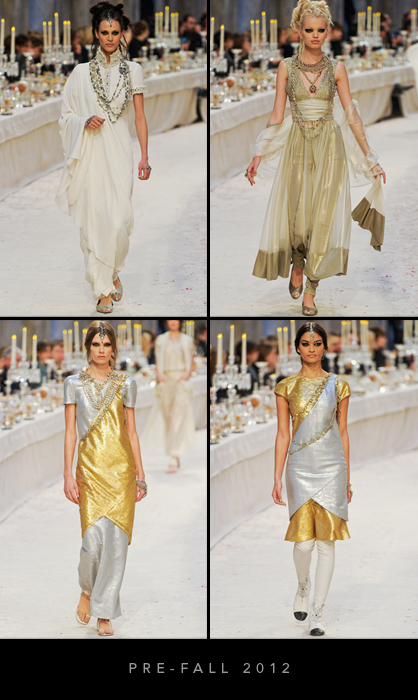 LadyLUX via Style.com
The details may have had subtle references, but the jewelry and other accessories brought India to life in a more obvious manner. Models strutted in opulent handcrafted headpieces made of pyramid studs, chains and jewels worn in the center of the forehead. Extravagant chained nose rings draped from the nose and were clasped at the ear. Beaded necklaces layered over chainmail bibs hung from the models' necks, while head wraps with brooches secured their hair. For this collection, the traditional saying rang true: Accessories make the outfit.
As for Lagerfeld, it seems he can take any theme or inspiration, wave his magic Chanel wand, and create a chic Parisian collection that is glamorous yet on-trend. They certainly call him the King of Fashion for a reason.
This article was contributed Annette Tang of the Versastyle. You can follow Annette and her fashion adventures on Twitter at @theversastyle.
Tagged in: paris, runway, chanel, karl lagerfeld, pre-fall, pre-fall 2012,