Pre-Fall 2012: Christian Dior
For years, Christian Dior has exhibited an over-the-top theatrical aesthetic with a flamboyant vibe that obviously screamed John Galliano. But since Galliano has been dethroned and Bill Gaytten has taken over as design director, the Parisian fashion house has received a much-needed makeover. The makeover began in Spring with a pretty but safe collection of girly dresses. And now, as Gaytten has settled into his position and built up some confidence, Pre-Fall showed a new, classier- than-ever Dior.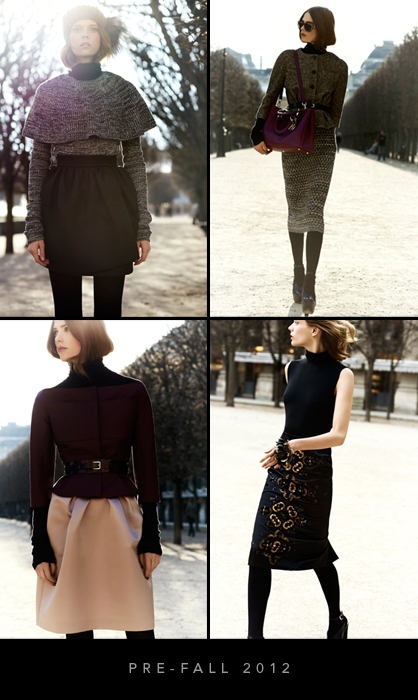 LadyLUX via Style.com
To construct a new Dior, Gaytten began at the most appropriate starting point: Dior's old archives. Brilliant iconic silhouettes from the brand's colorful past were revived for a sharp, modern update. Gaytten focused on pieces perfect for layering, including belt-cinching peplum jackets, double-breasted wool outwear, knit shrugs, dropped-waist dresses and tweed cocoon coats.
The different separates were mixed and matched with the season's must-have staples – slim turtlenecks, opaque tights, and a choice of bell-shaped or pencil skirts. The result was an impeccably well-put-together collection that was, quite possibly, the most wearable Dior has produced in years.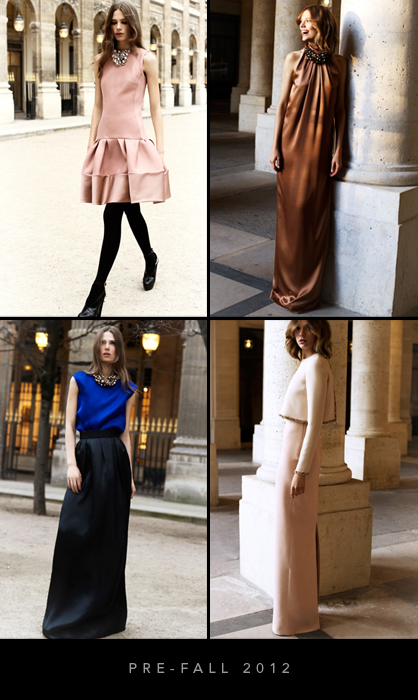 LadyLUX via Style.com
Gaytten didn't lose his stride either when it came to the eveningwear. The gowns were effortlessly elegant and could easily make any fashion lover do a double take. There were eye-catching looks of soft pink satin drop-waist dresses with collar embellishments, floor-length halter gowns, column gowns with cropped jackets with slits in the back and a floor-sweeping skirt paired with a cobalt-blue bodice top.
Considering the success of this Pre-Fall collection, it's a good thing Gaytten followed his own sense of style rather than try to emulate Galliano's. The breath of fresh air continued with the collection lookbook's street-style photography, proving Dior is modern once again.

This article was contributed by Annette Tang of the VersaStyle. You can follow Annette and her fashion adventures on Twitter at @theversastyle.
Tagged in: paris, runway, christian dior, dior, bill gaytten, pre-fall, pre-fall 2012,