Pre-Fall 2012: Diane von Furstenberg
At a quick glance, Diane von Furstenberg's Pre-Fall 2012 didn't appear like the usual DVF. For starters, it exhibited studs, chains and zippers – oh my. Called Macadam Diva ("macadam" means asphalt in French), the collection's name refers to its new hard vibe. The elements weren't fresh ideas by any standards, but in an effort to please the crowd, von Furstenberg jumped on the edgy bandwagon. However, she did not abandon her signature style altogether; it was more as if she had tried to blend her signature and edgy together.
The collection opened with the usual bright colors and prints that we're used to seeing from DVF. Stripes, polka dots, checks, geometric patterns and a chainlink graphic that referenced her breakout 1970s wrap dresses all made their way down the runway. It was the styling that was modern and new. Feminine sheath dresses and jacket with miniskirt sets were styled with studded belts. Vibrant green collarless jackets were covered in studs, and drop waist full-skirted dresses were paired with knee-high flat boots. The designer completed ensembles with long leather gloves, sheer knee-high hosiery and tough ankle booties. Models displayed a rock 'n' roll glam vibe with short funky hair styles and smoky eyes, a huge departure from the girly looks of Spring.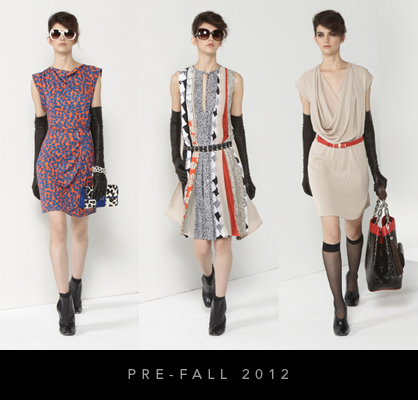 LadyLUX via Style.com
The second half of the collection was a completely new side of DVF. Featuring mainly black, white and gray, it was the fiercest von Furstenberg has ever been. The updated looks sported motorcycle vests, leather coats with matching skirts, sheer tanks styled with pleather pleated mini kilts and a pleather basketweave coat paired with matching boots that were definitely a first for this brand. The few ladylike silhouettes in the collection – simple dresses and ruffled blouses – were roughed up also.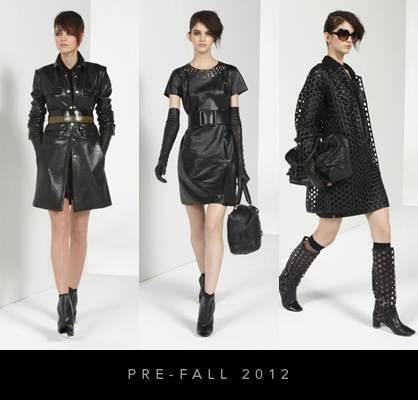 LadyLUX via Style.com
Von Furstenberg's efforts meant well, but fell a bit short. The looks weren't well put together, and it felt as if the designer was trying too hard. Perhaps the designs would have been best in her traditional materials minus the pleather.
DvF on Shopbop:

This article was contributed Annette Tang of the Versastyle. You can follow Annette and her fashion adventures on Twitter at @theversastyle.
Tagged in: new york, new york, runway, diane von furstenberg, dvf, pre-fall, pre-fall 2012,