Pre-Fall 2012: Doo.Ri
Doo-Ri Chung can drape a jersey dress or a silk skirt in her sleep. It's the signature on which she's built her brand, and it certainly has women looking relaxed-chic. But with a new season comes new ideas. For Pre-Fall 2012, Chung broke out of her comfort zone – literally – and introduced a more structured collection. The silhouettes still had an element of softness to them, but looked new and refreshing compared to her past designs.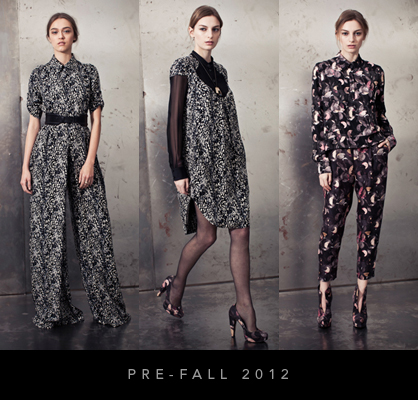 LadyLUX via Style.com
Draping may have been kept to a minimal, but staying true to form, no tight, fitted looks were present in Doo.Ri's collection. Chung updated super-slouchy palazzo pants with wide-leg pants completed with a tuxedo strip on the side. Loose shirtdresses were equipped with waist-cinching belts and mock collars, flowing pajama styles transformed into jumpsuits nipped at the waistline, and trousers discovered a more streamlined feel. Chung's Pre-Fall accentuated waists and cinched belts more than all her other seasons combined.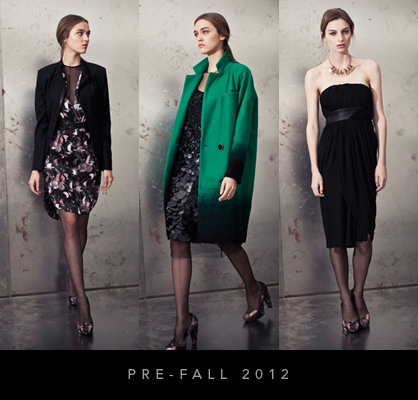 LadyLUX via Style.com
Despite the silhouette change, Chung still kept to a nearly colorless color palette of black, white and gray, with just a pop of emerald green in an ombré touch. And for variety, the designer incorporated floral winter prints and stripes. But don't expect a burst of color there, either. The patterns found their way onto matching blouse and pant sets, a collarless boxy jacket and flirty cocktail dresses. Chung surprisingly used embellishments: Sparkling dimensional sequins appeared in eveningwear dresses.
Despite all her efforts to reinvent her style, some of Chung's best pieces still featured a creamy white. Perhaps she designs better with a clean canvas, but regardless, the sleeveless sheath dress with sheer panels and angled slit pockets, and a narrow-cut trench coat were definite standouts. It was a good move on Chung's part, nevertheless, to change things up and to bring a sense of freshness and unexpectedness to her line. After all, even fashion houses need makeovers.
To shop Doo.Ri's current collection, please visit here.
This article was contributed Annette Tang of the Versastyle. You can follow Annette and her fashion adventures on Twitter at @theversastyle.
Tagged in: new york, new york, runway, pre-fall, pre-fall 2012, doo.ri, doo-ri chung,