Pre-Fall 2012: Givenchy
For some designers, Pre-Fall is a filler collection that doesn't get the attention it deserves. But for Givenchy, Riccardo Tisci took the season by the reins – literally – and created a collection worthy of a full-blown Fall line. The collection was inspired by the 1950s silhouettes of Bettie Page intermingled with 1970s French horseback riding looks, reported Style.com. The two themes merged to produce traditional equestrian elements revamped by Tisci's edgy artistry.
Despite a decent selection of floral patterns, which arose from seven years of pieced-together prints, the collection stayed true to a menswear vibe. The paneled coats and boxy wool jackets in particular exuded a masculine touch with their sharp lines and perfectly tailored construction, despite being styled with flared skirts and jodhpur pants.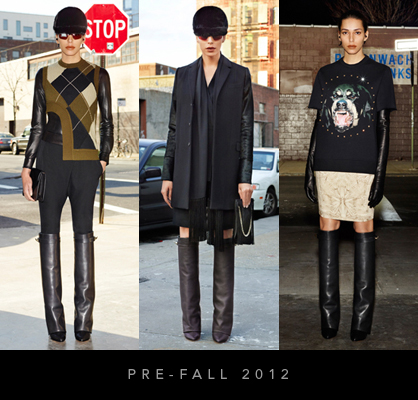 LadyLUX via Style.com
Each look was toughened up with long leather gloves that nearly reached the shoulders and what LadyLUX predicts will quite possibly be the most desirable boots of the season. The knee-high leather boots with heel-covering sheaths reinvented the silhouette from 2008's Fall/Winter Couture collection. Styled with sheath dresses, pencil skirts, slim trousers and even asymmetrical argyle sweaters, these boots were an instant game-changer, bringing serious edge even to these potentially conservative pieces.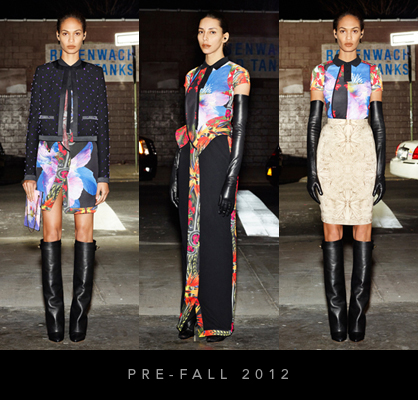 LadyLUX via Style.com
Although equestrian suiting, completed with fur riding caps, was a strong theme, revisiting old archives also influenced the collection. Alongside the various prints and boots, Tisci worked in notes of Spring 2012 by reworking iridescent paillettes into another dress print made of sweatshirt material and replacing the shark tooth pendant with an antler one. The most notable revival, however, was the famous Rottweiler. The snarling dog graphic from the Fall 2011 menswear line was a hit the first time around and will, without a doubt, excite the female fans that had previously borrowed from the boys.
Tisci knows what the Givenchy girl craves, and resurrecting past successes updated with new novelties showed just that. Among the boots, the Rottweiler and jackets, she will be marking her calendar for the collection pre-order.
This article was contributed Annette Tang of the Versastyle. You can follow Annette and her fashion adventures on Twitter at @theversastyle.
Tagged in: new york, new york, givenchy, runway, riccardo tisci, pre-fall, pre-fall 2012,