Pre-Fall 2012: Gucci
The Fall season usually showcases the bolder, edgier collections, while Spring is often about a softer feel. But this year, Frida Giannini had mixed feelings about the season's vibes – literally. For Gucci's Spring line, Giannini crafted a fierce Art Deco/Jazz Age collection with all sorts of glam. But for Pre-Fall, she digressed. The interim season possessed a more refined look, illustrated with easy, gentle silhouettes – something we rarely see from the Gucci designer, but nonetheless is definitely welcomed.
Like other designers this season, Giannini got inspired from an equestrian theme, which isn't too farfetched considering the fashion house's history. But this time around, the theme was minus the once-popular horsebit hardware. The designer focused on a well-rounded collection of outerwear, separates and dresses with styling and silhouettes that loosely referenced the horse-based vibe.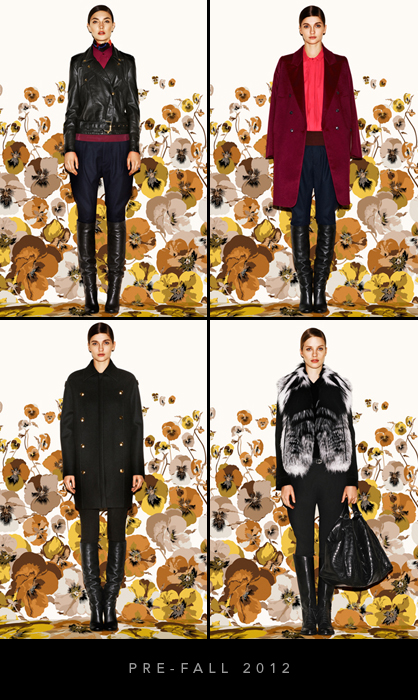 LadyLUX via Style.com
The line also boasted an array of slouchy, wide-leg silk trousers paired with printed button-down shirts or blazers. Leggings and fitted trousers maintained a relaxed softness with knit turtlenecks and boxy jackets. Some looks were replaced by full maxiskirts. Dresses appeared in multiple shapes, styles and materials, including short sheaths, pleated day dresses, long-sleeve shirt-dresses in floral prints and checked peplum options.
In the same amount that she served up dresses, Giannini had a vast selection of outerwear for every occasion and type of weather. Oversized, double-breasted blazers were well-suited for cool daytime looks, relaxed trench coats offered an option for dreary days, peplum jackets looked sharp for the office, suede motorcycle jackets provided an effortless appeal and brushed wool cocoon coats were made to bundle up in.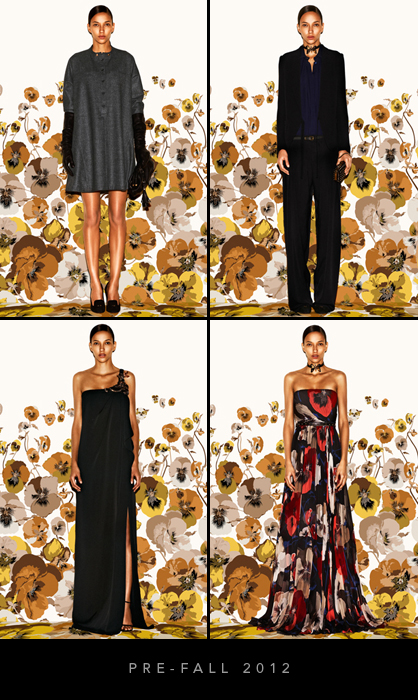 LadyLUX via Style.com
Giannini didn't get too comfortable with this dreamy collection, though. She still exhibited some traditional Gucci opulence with an impressive fur coat and a jacket made of fox fur and embedded with a black-and-white chevron.
The collection of burgundy, white, peach and black ensembles was a balanced one with plenty of versatile options – perfect to get in the mood for Fall. And with a softer Gucci appearance, it's got that minimal feel that's right on trend.
This article was contributed by Annette Tang of the VersaStyle. You can follow Annette and her fashion adventures on Twitter at @theversastyle.
Tagged in: gucci, runway, milan, pre-fall, frida giannini, pre-fall 2012,