Pre-Fall 2012: Jason Wu
Proper and ladylike is what Jason Wu does best. After a slightly edgy hot shorts and a KAWS print moment in Spring 2012, the young designer reverted to his usual aesthetics of well-put-together feminine looks for Pre-Fall 2012, reported Style.com. However, the designer still found inspiration through art. This season, his interest landed on artist Charley Harper, known for his graphic depictions of nature.
Wu's muse is never obvious, as his sense of luxury dominates his designs. And what was his idea of luxury for Pre-Fall? Camel-hair capes, complex beading, hand-embroidery and a houndstooth print constructed of densely stitched sequins were just a few tricks up his sleeve. And that was just for daytime attire.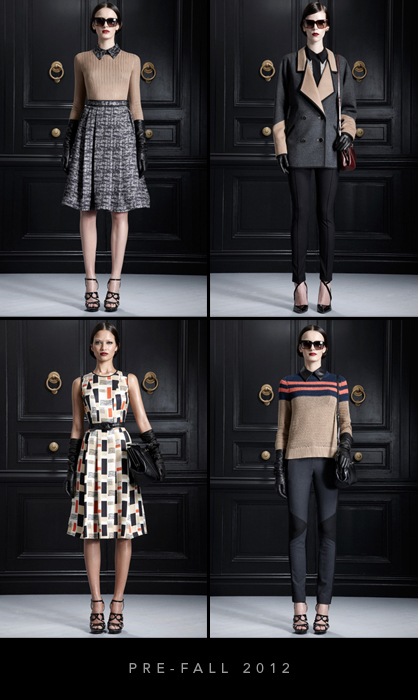 LadyLUX via Style.com
The tailored, streamlined looks were nothing short of regal, including Wu's burgundy trench coat with jet beads on the shoulders and accenting trim piping, a causal sweater with loose crochet weave, fitted trousers with contrasting side panels and knee-patches, dress collars adorned with paillettes or emphasized in sleek leather, and sweetheart neckline dresses layered over long-sleeve crewnecks.
With such intense detail displayed in the professional separates, some designers might have lost their steam for eveningwear, but not Wu. He resurrected the full evening gown that had appeared a bit shy in his Spring collection. Red, green and blue jewel tones invigorated the abstract floral full-skirt gowns and the silk georgette halter dress with a grand sequin collar.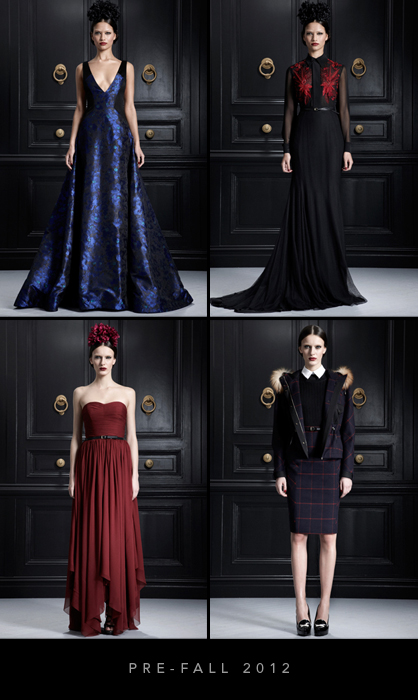 LadyLUX via Style.com
Alongside the "belle of the ball" dresses, Wu recognized not every moment is a red-carpet occasion. The designer therefore created a pleated chiffon bodice complementing an abstract floral skirt cocktail number and a matching pant and jacket menswear printed ensemble.
Wu delivered a Pre-Fall collection that that bursted with detail that only magnified upon closer inspection. It represented one of those collections that the more you see it, the more you like it. Luckily, the pieces are perfectly timeless. Wu truly is forever.
This article was contributed Annette Tang of the Versastyle. You can follow Annette and her fashion adventures on Twitter at @theversastyle.
Tagged in: new york, new york, runway, jason wu, pre-fall, pre-fall 2012, charley harper,