Pre-Fall 2012: Maison Martin Margiela
Maison Martin Margiela must be expecting a cold one this Pre-Fall 2012. Perhaps the design team didn't get the global warning memo, or maybe they know something we don't. But regardless, the interim collection had a heavy focus on outerwear. The season's lineup of coats and jackets wasn't just the "it's chilly" look, but the kind that could easily prepare us for an Ice Age and still look stylish.
For the vast assortment of styles, Margiela looked to a place of warmth and coziness; a place where enveloping yourself in layers of comfort is more than acceptable. The designers also drew inspiration from beds, resulting in structured wool blanket coats with satin trim and supersized origami-folded collars, an oversized poncho-cape blanket with a handkerchief hemline, and goosedown duvet parkas with folded collars. Overall, it was a rather plush selection.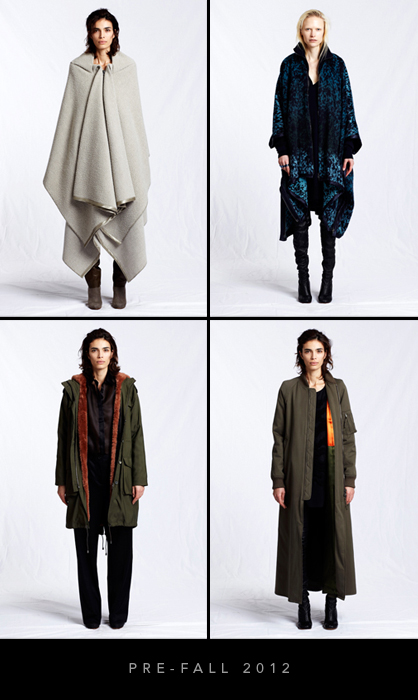 LadyLUX via Style.com
Margiela also designed outerwear more along traditional lines for the less adventurous – and for the non-Ice Age days. Elongated blazers offered crisp, light options that were paired with relaxed trousers. Military and trench coats were fur-lined while toggle coats were made for ideal layering and crocodile motorcycle jackets were effortlessly edgy. And since it seems lately that no collection is complete without fur jackets, shaggy vests and a boxy coat appeared featuring extra-luxurious raccoon fur.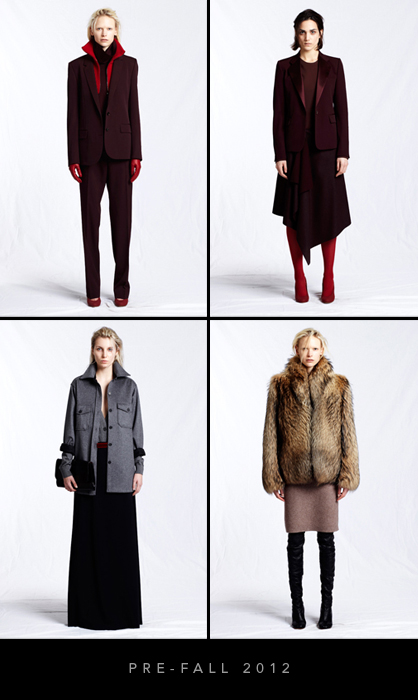 LadyLUX via Style.com
Between the jackets and extreme outerwear, Margiela has designed tailored yet relaxed looks with the minimalistic attitude it's known for. Pre-Fall exhibited expertly draped tunic dresses that cascaded to the floor, cool leather jumpsuits, snakeskin sheath dresses and silk blouses styled with slouchy pantsuits. Ensembles were finished with long leather gloves and over-the-knee boots – ready for the upcoming storm.
The collection of outerwear brings back the notion of the power coat, and – cold or not – it's a season must-have. It's really just a matter of avant-garde duvets and blankets or classic styling.
This article was contributed by Annette Tang of the VersaStyle. You can follow Annette and her fashion adventures on Twitter at @theversastyle.
Tagged in: new york, new york, runway, maison martin margiela, pre-fall, pre-fall 2012,