Pre-Fall 2012: Missoni
Few designers can pile on endless layers of chevrons patterns, florals, stripes, geometrics and prints the way Angela Missoni can. And Pre-Fall 2012 demonstrated exactly how effortlessly Missoni envisioned her extensive world of patterns. Look after look of mishmashes of cozy layers and knee-high socks were displayed – the complete opposite of Spring's ruffled tiers, fringed hems and asymmetrical hemlines. The ensembles were a refreshing breath of air from the typical black winter coats.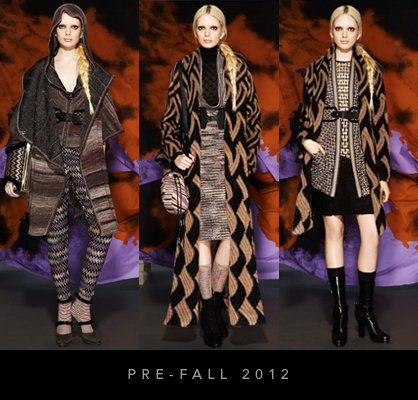 LadyLUX via Style.com
The collection could have easily been a dizzying, overstimulated line due to Missoni's huge amount of diverse patterns. It seemed as if only one black pencil skirt managed to escape featuring a color or pattern. But despite the pattern after pattern motif, she made the collection work by keeping the colors tonal. Plum and lavender combined easily, while saffron and pumpkin joined forces to create cohesion. The styles were color-coded artwork.
Missoni also wisely stuck with clean silhouettes to avoid any fashion mishaps. The designer chose simple, long-sleeve turtleneck dresses; V-neck sweaters; paneled pencil skirts; slim-fitting pantsuits; and bodycon dresses. To add a touch of contrasting lines, Missoni included draped coats, capes, ponchos and elongated cardigans for effect. The easy pieces not only worked well with the prints and patterns but were also built for fluid layering. This layering resulted in coats topping off sweaters over turtlenecks; long, slouchy vests and tops paired with skirts; and form-fitting dresses styled over knits. To bring each look together, Missoni accentuated the waistline with wide belts in matching prints and patterns.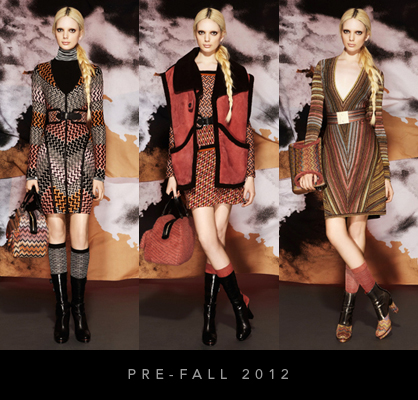 LadyLUX via Style.com
If belts are printed, it's only natural for handbags and shoes to be as well. Oversized totes, folded clutches and satchels went striped and chevroned, while ankle booties exhibited patterned, contrasting metallics.
If there is something we could learn from Missoni this Pre-Fall, it's the formula for patterned layering – tonal colors plus simple silhouettes and all the prints one can desire. We may not be able to master it quite like Missoni, but at least the inspiration is there. It's a great way to kick off Fall.
This article was contributed Annette Tang of the Versastyle. You can follow Annette and her fashion adventures on Twitter at @theversastyle.
Tagged in: new york, new york, runway, missoni, angela missoni, pre-fall, pre-fall 2012,