Pre-Fall 2012: Oscar de la Renta
Oscar de la Renta's Pre-Fall 2012 collection may not have left fashionistas on the edge of their seats, but you can always count on the designer for elegant ensembles. This season, de la Renta abandoned the full taffeta skirts of Spring 2012 and served up 58 looks of wearable and sophisticated separates, chic dresses and a finale of column-silhouette eveningwear, reported Style.com.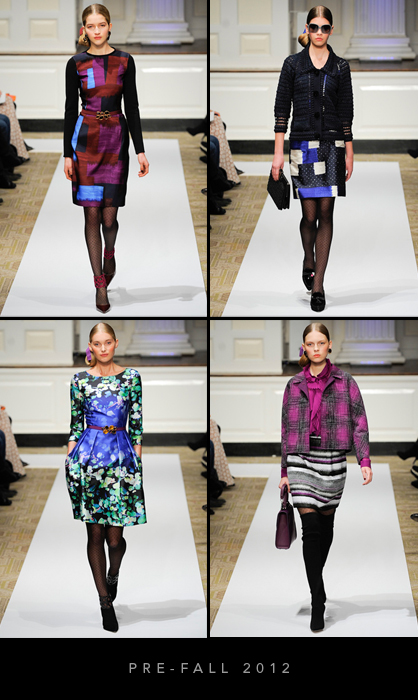 LadyLUX via Style.com
De la Renta had no cohesive theme for Pre-Fall, but rather a series of mini themes, including a melting pot of prints, patterns and textures and a diverse spectrum of colors. The show opened with black-and-white polka dot and graphic print smart pencil skirts with three-quarter sleeve jackets. It then transitioned into houndstooth-quilted coats, followed by a gray plaid and oxblood leather series of knee-length pleated skirts, wool outerwear and chic dresses. Next, a light palette cleanser of nude trousers and skirts appeared, paired with sheer silk ruffled tops and fur vests. The show finished with a colorful blast of purple, green and blue floral and graphic print long-sleeved dresses, knitted jackets, classic trench coats and ladylike skirts.
De la Renta didn't seem focused on the upcoming awards season, hence the lack of red-carpet, over-the-top showstoppers. Instead, his finale exhibited gorgeous column goddess gowns in coral, gold and black. The prints did not transition into the eveningwear. Rather, the designer emphasized sequins, beading, flowing dissymmetric hemlines, halter necklines and matching bolero jackets.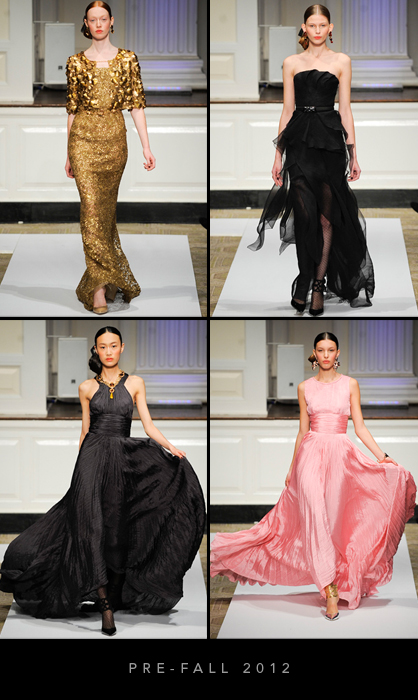 LadyLUX via Style.com
The fashion veteran did sneak in one classic trend currently popping up on other runways: the pointed pump. Pointed-pumps with cutout ankle cuffs were not only paired with the obvious daytime pencil skirts and trousers, but were freshly styled with the evening gowns, reminiscent of an era of proper dressing.
Pre-Fall was a typical de la Renta moment that included trending ladylike attire, but at the end of the day, that is what he is already known for. Hopefully his Fall collection will see a more inspired Oscar.

This article was contributed Annette Tang of the Versastyle. You can follow Annette and her fashion adventures on Twitter at @theversastyle.
Tagged in: new york, new york, runway, oscar de la renta, pre-fall, pre-fall 2012,