Pre-Fall 2012: Prabal Gurung
This interim season marked Prabal Gurung's first ever Pre-Fall collection, and he had the blogosphere and editors eating out of the palm of his hand. Since the presentation of the collection, images of the 30-plus looks have been circulating the Internet, a clear sign of approval from the fashion community. The highly talked-about line was inspired by India, where Gurung began his design career. But it wasn't the traditional India with saris that stimulated the designer; it was "the muddy India, the ruins," he said, reported Style.com.
Gurung moved away from his usual glitz, stepping forward with a subtle palette of black, white, emerald and soft pink, plus a spectacular plum kaleidoscope print. Kicking off the presentation, the unique print made its way into dresses and separates as an all-over and as broad panels.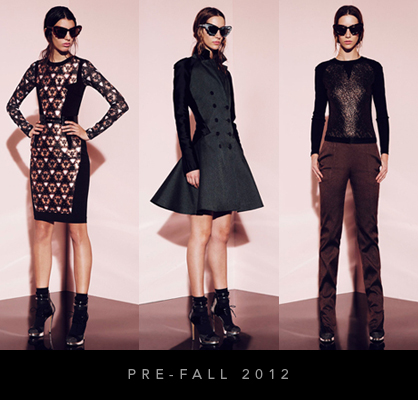 LadyLUX via Style.com
Bomber jackets, slim trousers, structured blazers and a long-sleeve, body-conscious sheath dress highlighted the kaleidoscope print, proving Gurung wasn't playing it safe this season. The printed series of structured lines was accompanied by softer looks of satin shirtdresses with short and flowing sleeves, simple slip dresses and long evening gowns with miniature capes. The designer still managed to inject a bit of glamour with a fur scarf, styled with an asymmetrical hemline dress and impressive fur coat.
In addition to the Pre-Fall collection being a first, it was also a first for Gurung to create easy, wearable pieces. He achieved simplicity with silk T-shirts, long-sleeve knit tops and even running shorts. An A-line, double-breasted coat also made for a chic fix without the complications.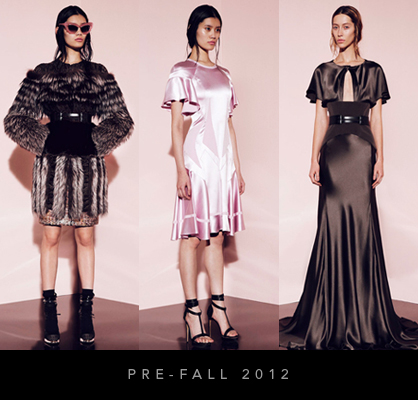 LadyLUX via Style.com
The daytime print ensembles found an edgy note with the help of modern footwear and extreme cat-eye sunglasses in neutrals and black. Laced-up sandals paired with socks played with the constructed looks. For evening attire, T-strap sandals with a double ankle wrap complemented the softer side of the collection.
The success of the Pre-Fall line will surely mean Gurung will continue to expand his brand and possibly try other elements that haven't been in his repertoire before. It was a season of growth for the designer, and now it looks like he's on a roll.
This article was contributed Annette Tang of the Versastyle. You can follow Annette and her fashion adventures on Twitter at @theversastyle.
Tagged in: new york, new york, runway, prabal gurung, pre-fall, pre-fall 2012,