Pre-Fall 2012: Proenza Schouler
The boys behind Proenza Schouler – Lazaro Hernandez and Jack McCollough – have been on a roll these past few seasons with their heavily sought-after PS1 and PS11 shoulder bags and Spring's San Francisco-circa-1960s-inspired collection. For Pre-Fall 2012, the duo didn't lose their streak and created another winning collection with a "sporty meets polished" sensibility. Recently having returned from a trek through the Himalayas, Hernandez and McCollough brought back with them some inspiration from the mountains, as reported by Style.com
At first glance, the Pre-Fall collection appeared to be well put together layered looks in bold coral, blue, plum and emerald – the usual Proenza Schouler. But on closer inspection, the line included so much more. Hernandez and McCollough zeroed in on unexpected details such as button-downs in windbreaker nylon, quilted coats and dresses that mimicked sleeping bags, cocoon sweatshirts in a scubalike material, and tweed jackets that took notes from mountaineering parkas.
LadyLUX via Style.com
Always loving to create their own prints, the duo took an aerial view of the mountains from Google Earth. Using this image, they crafted a unique pattern that could easily be mistaken for crushed velvet, but worked perfectly as a silk jacquard for less sporty looks such as A-line skirts and bustier tops. It was creativity in the most unassuming way.
While the snap and Velcro closures were sporty, Hernandez and McCollough maintained streamlined silhouettes and feminine pieces with flared, A-line skirts, miniskirts and a classic baby-doll dress that has been a signature for the brand. This season's baby-doll lost some of its sweetness when remixed with mesh overlays and a cool bungee cord drawstring under the bustline.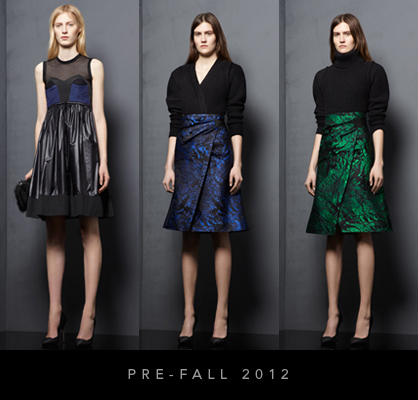 LadyLUX via Style.com
One might have expected that the models would be wearing hiking boots and carrying backpacks, but Proenza Schouler avoided a literal interpretation of mountaineering. Instead, looks were completed with quilted iguana leather bags and fur clutches. Footwear made a simple statement, featuring rubber-tipped pumps with a chic, squared topline.
The Pre-Fall collection was perhaps more robust than previous seasons, but it was a nice departure for Proenza Schouler and it worked. If this is a sneak peek for what is in store for Fall, we're in for a real treat.
This article was contributed Annette Tang of the Versastyle. You can follow Annette and her fashion adventures on Twitter at @theversastyle.
Tagged in: new york, new york, runway, proenza schouler, lazaro hernandez, jack mccollough, pre-fall, pre-fall 2012,