Pre-Fall 2012: Rachel Zoe
In Fall 2011, Hollywood's super stylist Rachel Zoe launched her eponymous contemporary line, which flew off the racks and created an immediate cult following. All Zoe's fans lusted for her glamorous "high fashion meets vintage" styles. For the stylist turned designer, creating a collection seemed to come rather naturally. She has, after all, been sitting front row at all the best fashion shows for the last two decades.
But even with the endless amount of influence at her fingertips, Zoe stuck to what she knows best and designed from her heart. For Pre-Fall 2012, her heart took her to the 1960s – the era of mod minidresses and Jackie Kennedy style – which she mixed in with her 1970s staples.
LadyLUX via Style.com
With only four seasons under her belt, Zoe has already created a few coveted staples in her RZ Collection – including long, flowing maxi dresses and wide-leg pants – which also just happen to be must-haves in her own wardrobe. This season's maxi shed its bright colorful patterns as the designer opted for darker black and white graphics and a tougher look that exhibited leather jackets and gloves.
Using that '60s flair, Zoe revisited the mod dress, only this time, the silhouette had short sleeves and striped sequins. As it was a dress-filled collection, other dresses abounded, including body-cons, full-skirted ensembles, sheer bodices with pencil skirts and a waist-cinching short piece with long sleeves. All these numbers took on a slightly more structured and streamlined sensation than her previous collections.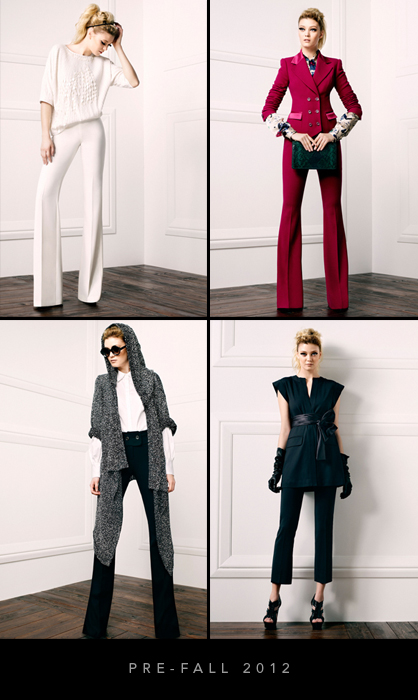 LadyLUX via Style.com
It was indeed a collection of more defined silhouettes for Zoe, who regularly plays with structured and flowing shapes in her styling. To boost the harder note, sharp-shoulder outerwear, a major category in the line, paired nicely with the fitted wide-leg pants and assortment of dresses. As Zoe designs like a true stylist – believing that options are most important – the collection overflowed with coats and jackets. She included a handful of classic tuxedo blazers in a spectrum of colors, double-breasted sleeved vests, fur-trimmed leather jackets, timeless trench coats, caped sweaters and a red peacoat that nearly stole the show.
The Rachel Zoe girl looks even more polished than ever – if that's even possible. Although the stylist's collection may be a series of her favorite categories (dresses, pants and jackets) and lacks intensely creative designs, it still works well for the customer who just simply wants to look fabulous.
This article was contributed Annette Tang of the Versastyle. You can follow Annette and her fashion adventures on Twitter at @theversastyle.
Tagged in: new york, new york, runway, rachel zoe, rachel zoe collection, pre-fall, pre-fall 2012,