Pre-Fall 2012: Reed Krakoff
It's only been two years since Reed Krakoff launched his signature line, but it looks as if he's slowly beginning to find his ready-to-wear groove. Accessories, on the other hand, he already has in the bag – as he should, being president and executive creative director of Coach. The accessories expert took another stab at Pre-Fall 2012 by revisiting the androgynous styling that he's so fond of. This Fall, he did a much better job.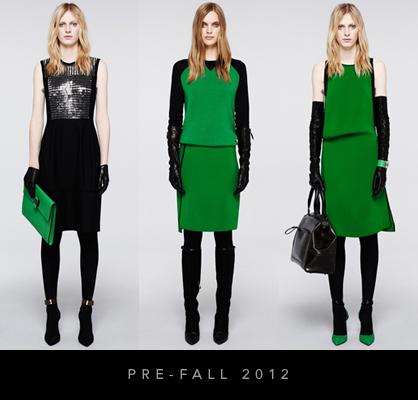 LadyLUX via Style.com
Krakoff referenced the concept of uniforms time after time for Pre-Fall, reported Style.com. Yet his notion of these outfits didn't quite materialize. Instead, the green, black and nude collection showed a good handful of tough, boxy tops with paneled leather sleeves paired with slightly loose, straight-leg trousers or wide pencil skirts. Also making an appearance were long fur vests, sleeveless shift dresses with abstract circle prints, monochrome looks with matching silk blouses and wide-leg pants, collarless leather jackets with contrasting piping, elongated blazers, and leather blocked with python overcoats. His standout piece was a green chainmail top overlaid with chiffon and completed with a paneled snakeskin skirt. The "uniform" might have manifested in the leather gloves worn by all the models and the orderly rectangular silhouettes of the collection.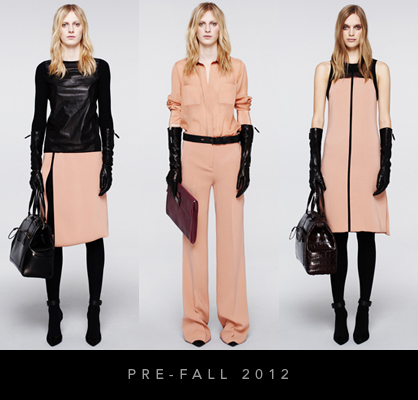 LadyLUX via Style.com
The line alone was melodramatic, but luckily, Krakoff's sharp handbags and modern footwear added the perfect dose of spice. Green leather or crocodile handbags in doctor-bag shapes, envelope clutches and, of course, Krakoff's signature tote created eye-popping touches to complement the colorless looks. The bags also were exhibited in staple tones of black, tan and deep oxblood.
To complete the contemporary ensembles, he employed on-trend pointed-toe pumps with ankle cuffs or python knee-high boots layered over opaque tights. The pumps featured several versions of cuffs, such as multiple skinny straps or thick, contrasting ankle bracelets.
Krakoff's strength still clearly lies in handbags and accessories, as his design aesthetic reflected. He appeared to have purposely created a simple collection to use as a blank canvas to let his real art shine: must-have bags. It is still too early in his career, however, to judge. Maybe he will wind up transforming his ready-to-wear and create a household name as he did with Coach.
This article was contributed Annette Tang of the Versastyle. You can follow Annette and her fashion adventures on Twitter at @theversastyle.
Tagged in: new york, new york, runway, reed krakoff, coach, pre-fall, pre-fall 2011,