Pre-Fall 2012: Sonia Rykiel
At first glance, Sonia Rykiel's Pre-Fall collection had a simple, pretty and feminine look. But there was more than met the eye. The Rykiel design team must have been in a dreamy, surreal mood. Paying tribute to Surrealists such as Man Ray, Marcel Duchamp and Salvador Dali, a quirky graphic motif created a story throughout the lineup of dresses and separates. And to make it appear as if the collection was in a Rykiel dream, materials were artfully blurred and distorted.
In any Surrealism piece, it's all about the element of surprise – and it was no different on the runway. Each silhouette featured a whimsical pop. Flowing, pleated mid-calf skirts were adorned with a pair of oversized swallows on the waistband. Trousers exhibited wavy tuxedo stripes, while curvy hemlines and teardrop cutouts entertained long-sleeved knit dresses. Brooches and embroideries appeared in shapes of masked pears, swallows and batting eyelashes. Swirling colorblock patterns made for eye-catching crewneck knits.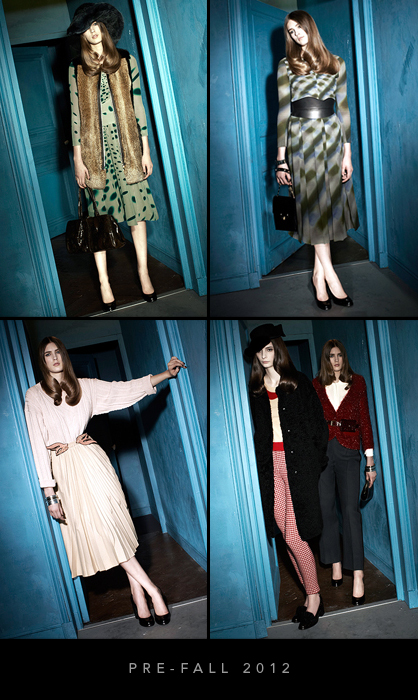 LadyLUX via Style.com
The dreamlike, blurred vision was displayed most clearly in the various prints and patterns. The label's signature lip graphic had a smudged effect, appearing on pleated skirts and a romantic, long-sleeved maxidress. Stripes on chiffon dresses turned milky, while abstract, oblong polka dots boasted a lava-lamp effect.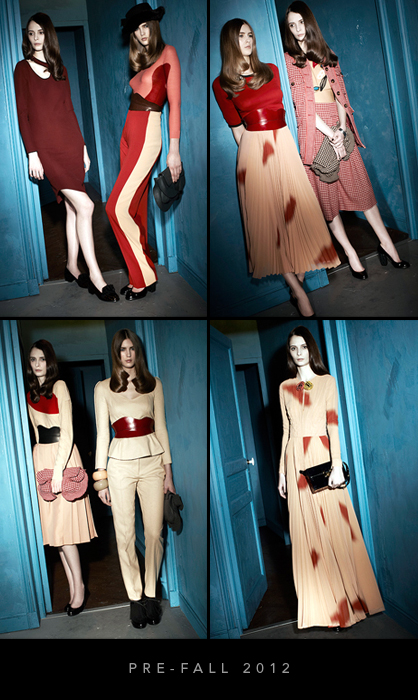 LadyLUX via Style.com
All quirkiness aside, the collection was well styled and offered a softness for Pre-Fall using a palette of deep reds, creams, sages and camels. The Rykiel team took a clean approach to the ensembles with knee-length dresses layered with fur vests and a fuzzy, wide-brimmed hat. Pant looks, dresses and peplum tops were cinched at the waist with wide leather belts, and oversized cardigan and dimensional print overcoats were draped around the shoulders.
The collection offered fun and playful options in a subtle manner, which is right on target for the Sonia Rykiel customer – and anyone else that has a sense of humor.
This article was contributed by Annette Tang of the VersaStyle. You can follow Annette and her fashion adventures on Twitter at @theversastyle.
Tagged in: new york, new york, runway, sonia rykiel, pre-fall, pre-fall 2012,