Pre-Fall 2012: Theysken's Theory
It's the brand that everyone can't seem to get enough of. Pre-Fall 2012 marked Olivier Theyskens' fifth collection for Theyskens' Theory, and it's looking quite rockin' – literally. Opting for a darker collection than he chose for Spring, the designer found inspiration in an artificial rock for the collection's warm palette of navy, black, white, aubergine, silver and burgundy, plus its abstract line prints, reported Style.com.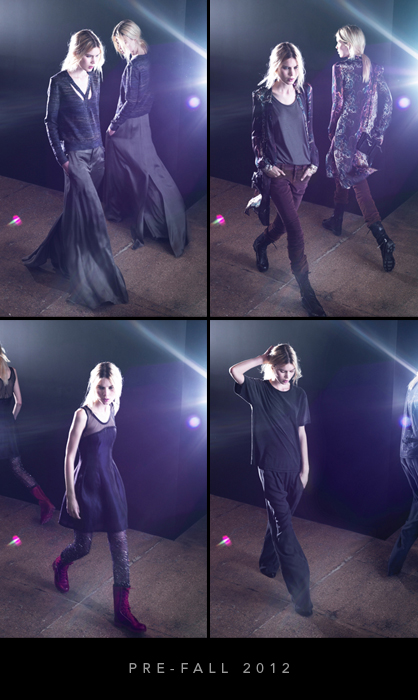 LadyLUX via Style.com
The Pre-Fall collection displayed an undeniable coolness; the kind that is so effortless that you either have it or you don't. And since Theyskens' does, it was a nonstop show of '90s-inspired babydoll dresses styled with bright red combat boots, relaxed motorcycle jackets paired with stovepipe pants, drop-waist skater dresses combined with jeweled tights and sheer floral blouses layered over slouchy tees, just to start. The young designer focused exceptionally on pants and bottoms, including metallic silver skinnies, satin miniskirts, floor-length skirts, slouchy shorts and super wide-leg pants with a split panel in the back. The looks were all right up the alley of his progressive fan base. Hints of the '70s also appeared, with shaggy fur jackets and metallic silver cowboy boots perfect to pair with the matching pants.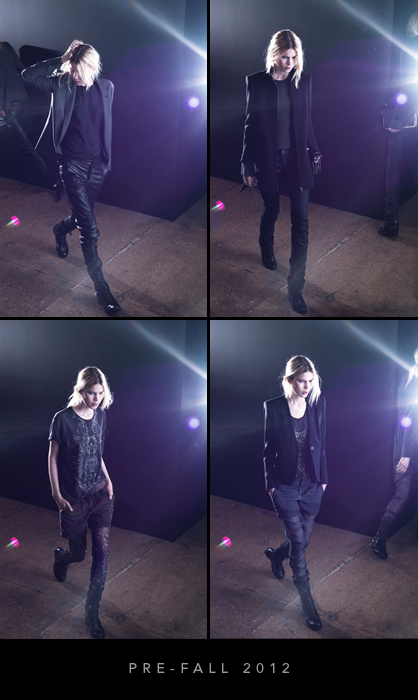 LadyLUX via Style.com
Theyskens' clearly knows what his customers want when it comes to footwear, as his sold-out status evidences. His past season's ankle-strap ombre wedge pumps and Western boots were possibly some the most coveted footwear around. Luckily this season, he didn't disappoint. The red combat boots were kicking in a knee-high or over-the-ankle height. The silver cowboy boots with a chunky heel updated the previous Western boots – a smart move on Theysken's part. Also available in black, these boots will have fashionistas swooning all over again.
The collection was indeed a collection, not just a series of separate looks. It carried a vibe that all the cool kids want. And with more than 30 variations, the new line offers a different Theyskens' ensemble for every day for the Theyskens'-crazy girl.
This article was contributed Annette Tang of the Versastyle. You can follow Annette and her fashion adventures on Twitter at @theversastyle.

Tagged in: new york, new york, runway, olivier theyskens, pre-fall, pre-fall 2012, theyskens' theory,