Pre-Fall 2013: Color Trends
Revealing a more saturated color wheel of neutrals and rose tones, Pre-Fall 2013 also offered an array of opulent jewel and botanical hues adding warmth and richness. Featuring tones like chalky white, coffee brown, bisque and ice blue, get ready to see these ten color trends dominate apparel this coming fall season.
Silver and Gold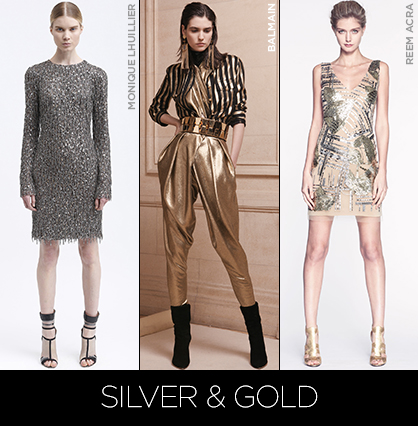 Exhibiting a regal and contemporary feel, pale silvers and golds conquered Pre-Fall collections with their sparkling appeal. While yellow gold held its own, shimmering silver and lighter gold were in full force. Incorporated into outerwear and knits, these metallics add dimension, texture and interest to fall's apparel and color palette.
Bisque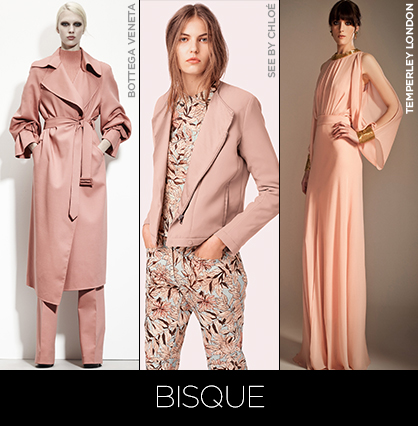 A richer alternative to nudes, rosy-toned bisque offers a fresh option for apparel and cosmetic color options. This creamy, pale and dusty color adds sophistication to knit dresses and softens tailored items while smoothing the surface appeal of fabrics.
Ice Blue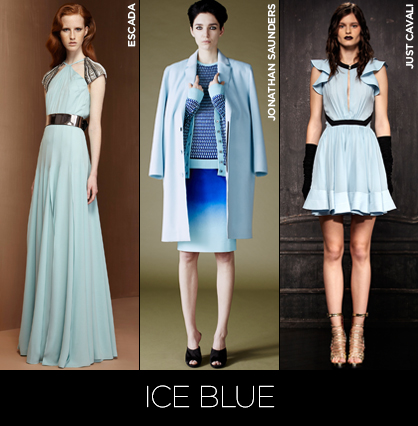 Cool and crisp light blues made an ice hot statement in Pre-Fall collections. This alternative to white is an unconventional and modern neutral that will add a fresh spin on Fall looks. Sleek and stretchy neoprene and soft fur outfitted in tinted blues and brighter tones offer futuristic, whimsical and relaxed looks.
Pink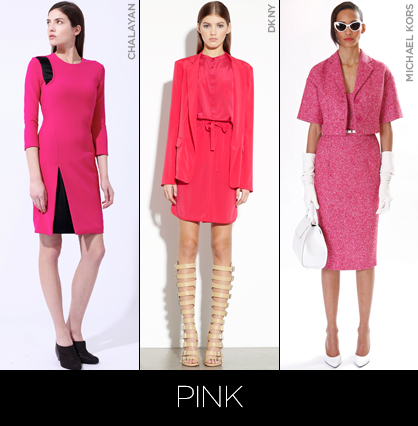 The Pre-Fall color wheel addressed the entire spectrum of pinks from cotton candy to bubble gum. While mid-tones lessened the sweetness of the color, pinkish lavenders and hot magentas took center stage in subtle sheens and metallic accents.
Green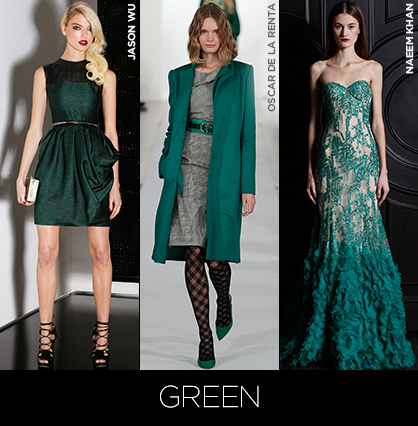 Gaining momentum for Pre-Fall, Pantone's color of the year, emerald, can be worn until the very end of 2013. Brighter jewel greens, muted teals with blue undertones and forest greens will all make their mark in Fall wardrobes. Greens dress up a suit, monochromatic outfits and look luscious paired with grey.
Grey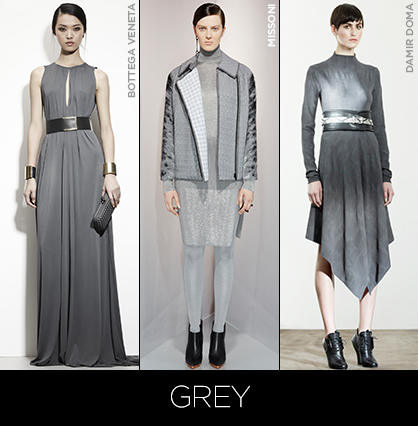 Grey-scale looks dominated the runways, evoking lady-like and comfortable styles. Barely-there and deep slated greys enhanced both casual and smooth fabrics with dotted and striped prints for some cool texture.
Coffee Brown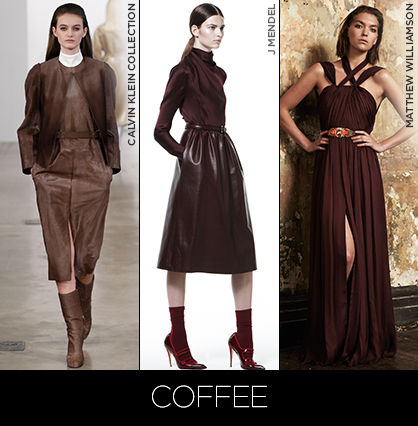 Boring brown gets a makeover for this season. Inspired by coffee colors, darker browns are the new go-to colors and can even stand in for black. From roasted red-browns to cooler coffee bean browns, every shade of chocolate looks chic on refined structural pieces, especially rich leather and lush fur.
Chalky White
Minimalism took over the runways with chalky white colors. Create a modern look of all whites for a simplistic and easy way of piecing an ensemble together. Looking fresh with bright and dull tonal combinations, all-white looks appear pure and fresh as snow. White colors look best on stiff laces and clean edges with subtle undertones of peachy-pink, grey and beige.
Purple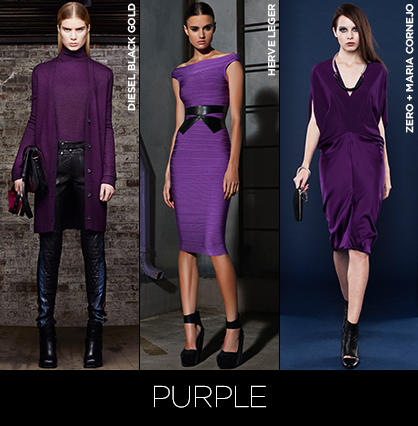 Known as the color of royalty, purple is being upgraded for Pre-Fall 2013. From dark eggplants to metallic plums, designers utilized both deep and bright purples for regal looks. Integrating the color palette into tailored dresses and metallic prints, darker purples can be an interesting alternative to black this season.
Caramel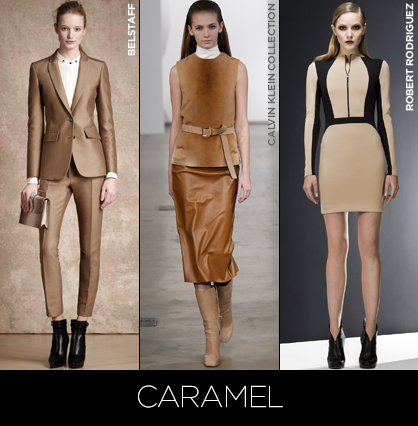 Caramel tones can complement any skin tone. Taking over apparel like coats, slacks and skirts on material of skins, leather and wool, this classic neutral reveals more depth from darker undertones. When paired with light creams or bold jewel-tones like emerald and amethyst, the camel tone comes to life.
Tagged in: trends, metallic, color trends, pre-fall 2013, emerald, pre-fall,