Pre-Fall 2013 Runway Trends: Part I
Showcasing luxe materials, rich colors and fresh details, the first round of pre-fall collections are under wrap! As the latest pre-fall 2013 trends unfold, LadyLUX shares our top ten favorites from the runway.
Fur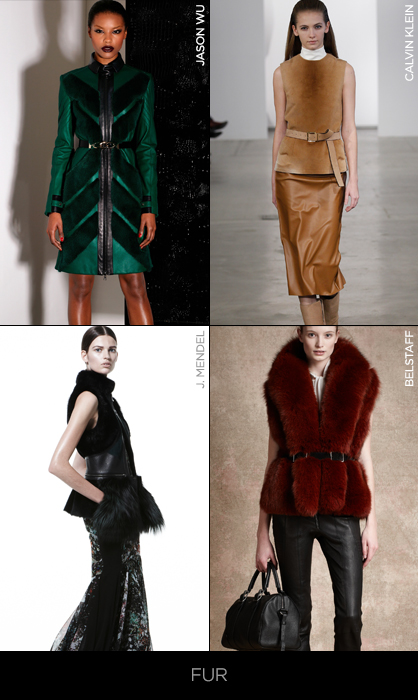 Used for both outerwear and separates, this versatile material appears in varying lengths and colors on the runway. Ranging from sheer and velvety to curly piles, fur piecing brings new life to tops and dresses.
Mixed Media Tweed
This classic material evolves for pre-fall 2013 with updated printed effects and rustic weaves. Bouclé yarns offer a nubby texture, while mixed media pieces add interest and dimension. Structured pieces are most prominent.
The Spencer Jacket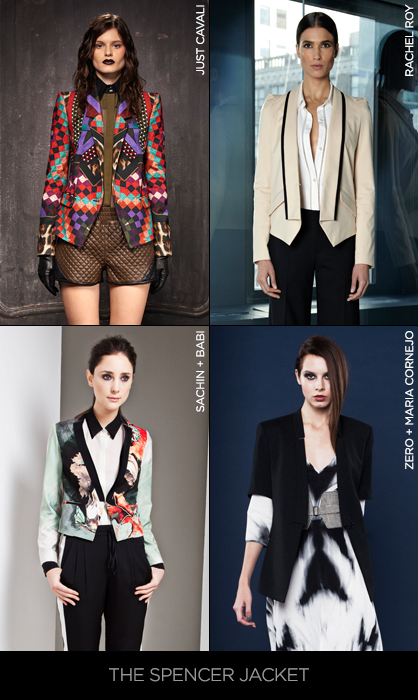 The Spencer jacket takes over as the season's must-have blazer. This cropped and tailored style features a fitted silhouette and varies from casual to formal. Prints and fabric blocking are seen across the board.
Floral Goes Folk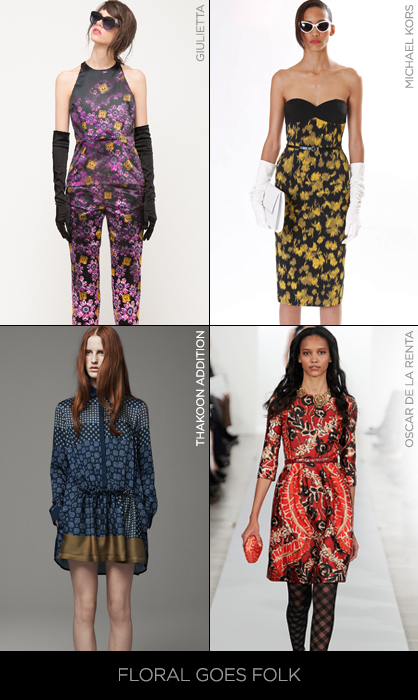 Autumn florals assume a rustic vibe with vintage motifs including foulards, medallions and 30s-ish abstracts. Paired with muted blues and reds, warm hues are displayed in dense or scattered layouts.
Moto Inspiration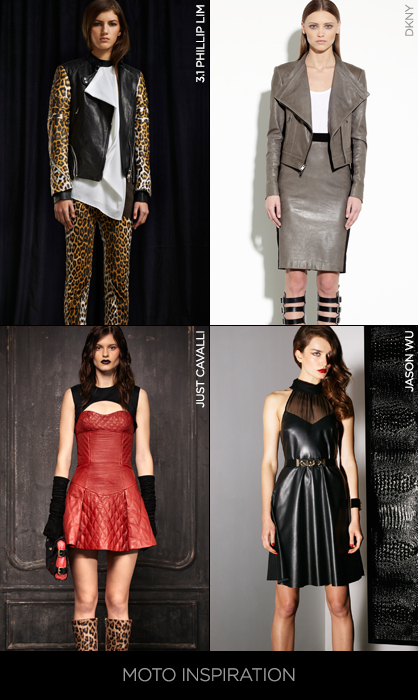 Reworked into details and fresh prints, motorcycle inspiration goes beyond the typical jacket to expand into dresses, coats, pants and suits. Embossed motifs, exposed zippers, hardware and quilted patterns are key.
High Contrast Graphics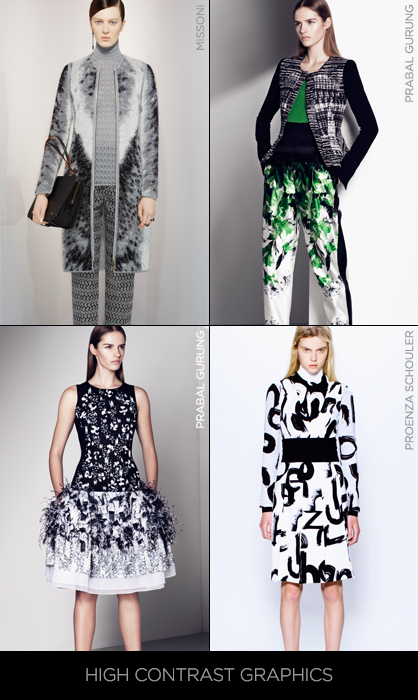 Black and white graphic motifs emerge as a pre-fall standout print. This stark contrast can be seen in geometric zigzags, stripes, polka dots, abstract brush strokes and simple florals. Textured effects enhance geometric silhouettes.
Panel Construction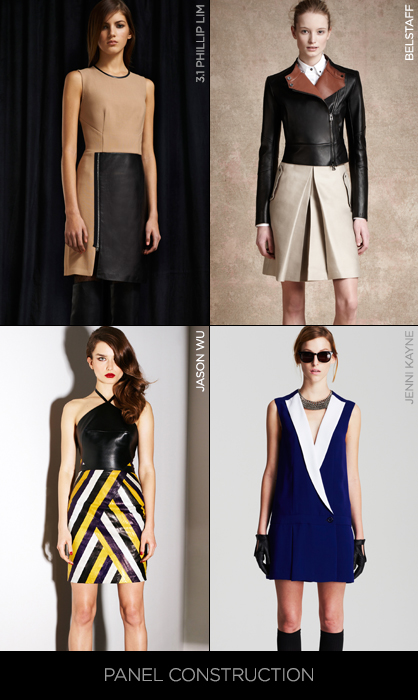 Graphic effects are also created through color-blocking and contrast facings. Contrasting panel constructions and material splicing are used throughout pieces in both bold and subtle ways to add new dimension.
Shades of Wine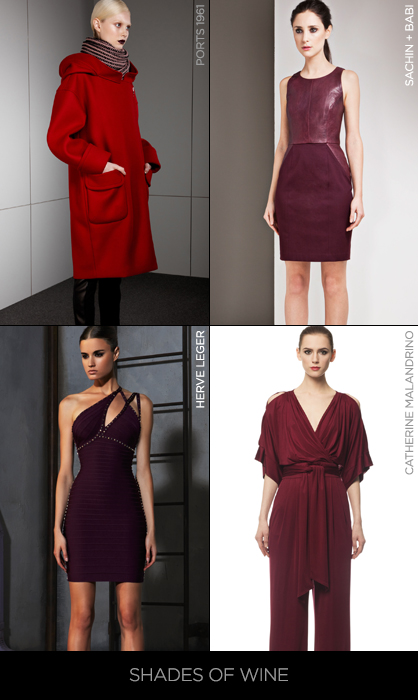 Saturated reds such as oxblood and deep burgundy provide the perfect transition from summer to fall. Seen in wool, satin and leather, this pre-fall palette serves as a neutral when paired with black and grey.
Leather for all Weather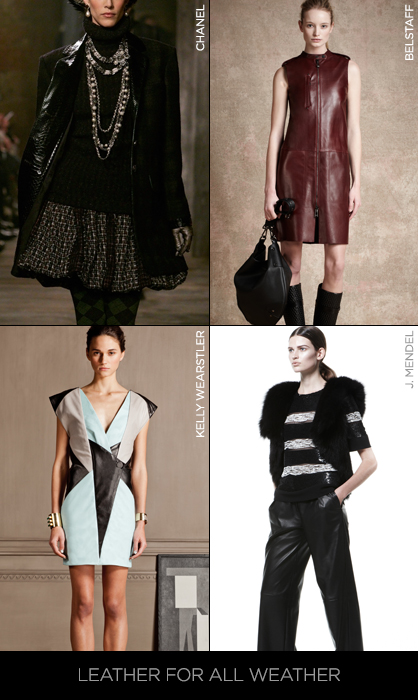 Used in all classifications, leather is seen in everything from tees and trousers to jackets. Supple and stiff variations of oxblood, black and brown leathers add dimension with quilting, ruching and dyed exotics.
Hues of Nude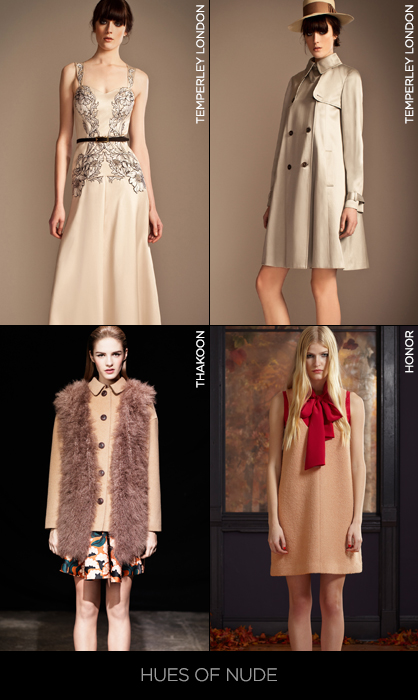 A classic neutral, hues of nude and bisque are used in contrast to bolder shades or as a stand-alone in coats and dresses. Incorporated into furs, wools, silks and tweed, the shade proves as versatile as ever.

Tagged in: trends, fashion, leather, runway, floral, graphic, oxblood, fur, pre-fall 2013, tweed,