Prismera Design debuts 'Mineral' for Holiday 2010/2011
Laura Su, designer of Prismera Design, announced on Nov. 12 the launch of her newest collection for Holiday 2010/2011. The Mineral Collection features chunky agates in raw cuts, suspended on chains instead of settings, allowing the stone to be viewed in a simple manner.
Slices of amethyst reveal tones of strawberry, cloudy purples, grays and greens. Some pendants are dipped in sterling silver or gold, coating the edges of the crystallized rocks. Besides geodes, Su also uses gem stones on gold chains for layering or in simple ring settings, aimed for stacking on the finger.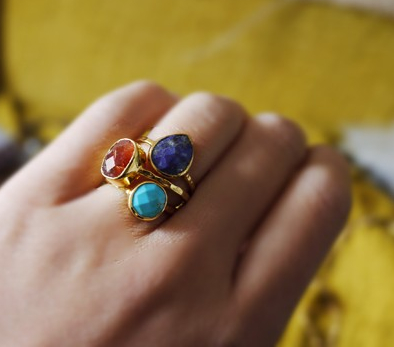 Although Prismera Designs is usually synonymous with delicate, nature-inspired jewelry, it seems Su is starting to show her funky side in her most recent collections. Her last collection, Revival, had a vintage, Americana feel.
Su explains how she stumbled onto agates: "Like so many other kids, I had a rock collection that I used to add to when my family and I took trips. When agates and other stones began appearing in my sourcing showrooms, I knew I had to add them to the line."
In Revival, Su incorporated pyrite, a silver rock that definitely shook up her usually simple designs. This collection seemed like a natural progression toward more contrast in her designs.
"There is something so provocative about balancing delicate and bold designs. This is something I am learning to expand on in my work," Su said. "I think as the jewelry line continues to evolve, you'll see more work that pushes this idea of contrast forward."
As with most jewelry designers, inspiration wasn't hard to find. Su said her biggest inspiration was what was right in front of her: the stones.
"The natural process of the Earth creates such interesting patterns and colors," she said. "This group was all about stones from the start. Some of it comes from my magpie tendencies. I can't resist a little sparkle."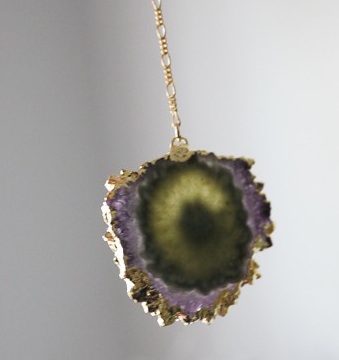 The holidays are the perfect time, Su said, to incorporate unusual and colorful pieces into your wardrobe.
The best part about Prismera's newest collection – especially with the holiday shopping season upon us – is that it is very reasonably priced. All her designs in Mineral are under $200.
For more information about Prismera's collection for Holiday 2010/2011, visit prismeradesign.com.
Tagged in: lux exclusives, jewelry, accessories, geode, agate, mineral, prismera,