Q&A: Mechanical Nature
Accessories can make or break an outfit. And while most accessory designers go the traditional route of creating rings, necklaces, bracelets and earrings, one designer on the cusp of a promising career is taking her own spin on accessories: what they are and how to wear them. In her debut collection, Loup Garou, from her label Mechanical Nature, Nafeesa Ahamed includes pieces that range from attachable hoods that double as a necklace to shoulder pieces that stretch across the side of the body. Her line is full of statement pieces that don't just accentuate the outfit, but work to incorporate the entire ensemble into one fluid piece.
LadyLUX: What led you into the field of design, accessories in particular?'
Mechanical Nature: Designing is one of the most constant interests I've had throughout my life. Clothing and accessories, to me, are wearable art and provide a snapshot of an individual's character with each element worn. I wanted to go beyond just noting the outer appearance and learn the construction and technical aspects, which led me to attend FIDM in Los Angeles, where I studied fashion design. I didn't focus on accessory design, but it was just something I gravitated towards on my own. I am drawn to accessories because they can completely modify an ensemble. When you put on a striking piece—whether it's a necklace, stack of bracelets or a purse—it can enliven what would have otherwise been a drab look.
LL: What prompted you to start Mechanical Nature?
MN: I wanted to develop a brand that was relatable to experiences and interests I had amalgamated into designs, so I started Mechanical Nature. I did the technical setup right away so that I could concentrate mainly on designs from there. The first collection was prompted by the destruction of a vintage leather vest. The process of developing the brand is ongoing. I intend for the designs in this collection to set a tone and lay the foundation for the brand's aesthetic.

LL: How did you come up with the name "Mechanical Nature"? How does this name relate to the brand as a whole?
MN: I wanted to come up with something that made people think twice about the name. The meaning is left for people to openly interpret. But to me, Mechanical Nature is sort of a paradox. I just think about how everyone goes about his or her day-to-day activities pretty much the same—unless something out of the ordinary happens, where that could change a person's routine. An occurrence, such as the birth of a baby, changes the nature of how someone will continue to operate. Or even when a lifeless object like a machine that works in a sequential manner, if it incurs an interruption or if parts go missing, its normal function becomes warped. My inspiration stems from things like that, with a combination of just thinking of other "what if's" and "why's" and delving thought into items that often go unnoticed—such as looking at the form of sardines packed in a tin—led me to incorporate Mechanical Nature as a term on its own, as a descriptive adjective duo. I want the brand name to be relevant, and I feel that the term that resulted agrees with that.

LL: How would you best describe the style of Mechanical Nature?
MN: I would describe the style as casual, yet bold. Comfort is important, so all the pieces can be worn with ease and allow a relaxed fit.

LL: Who do you envision wearing your collection?
MN: I envision people who are looking for something unique to wear to be interested in this collection.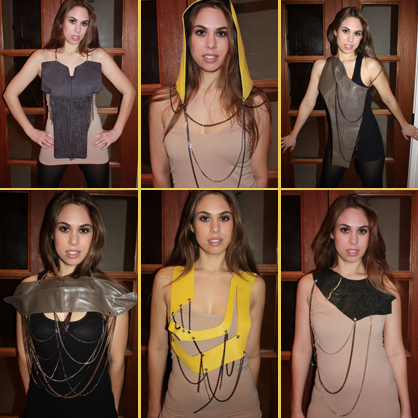 LL: How is this brand different from others?
MN: Mechanical Nature differs from others since the brand amplifies unconventional wearable designs and statement pieces that remain comfortable to wear to an array of individuals.

LL: Describe the current collection in your own words.
MN: The current collection Loup Garou introduces pieces which I consider to be "armor." The transformative property of the "armor" allows various looks to be achieved. Also, there is a revival of the choker and anklet. Designs in this collection can be worn either with a casual or dressy ensemble, depending on what they are paired with and the colorway chosen. Some pieces can be reversed (Western, Ribcage) and even worn sideways (Snap Strings). There are classic colors offered—such as brown, black, taupe—and also vivid options such as chartreuse yellow and copper sulfate blue.

LL: Describe the upcoming collection in your own words.
MN: Nothing is set in stone for the next collection, but I have been really into working with prints and patterns with influences from Native-American and African cultures, so expect to see something with a relaxed yet vibrant vibe. Also, I'd like to incorporate some metals, but I will just have to see what works.

LL: Will Mechanical Nature be moving toward a fashion line at any point?
MN: As of now, it is only an accessories line, but I would say the line has an inclination towards working with clothing in the future.

LL: What can we expect to see in the future from Mechanical Nature?
MN: Definitely more accessories. I'd like to experiment and work more with various mixed media.
To experience Mechanical Nature, visit the website at www.mechanicalnature.com.
This article was contributed by Dani Smith. To read more from Dani, follow her adventures on Twitter at @Danilaexoxo.
Tagged in: lux exclusives, designer, accessories, collection, q&a, nafeesa ahamed, mechanical nature, loup garou,