Q&A with a+ro: Not your average knits
Just in time for Spring, a+ro has released its latest collection of knitwear with a twist. Featuring a range of slouchy tees, print shorts and crochet cover-ups, the Spring line transforms the usual knits with surprising nautical themes, mixed prints and burst of bright neon colors. We sat down with designer Jane Moon to learn some more about her background and her incredible collections.
LadyLUX: What is your background? How did you get into fashion?
Jane: My educational background is a law degree from Pepperdine University, Malibu, California. My career background is from running the family business. I got into fashion by being born I guess ;0). I enjoy every aspect of it.
LL: What made you decide to take the plunge and start a line?
Jane: I felt there was a transition in the market from buyers looking for specializations instead of collections. So I decided to fill a niche by offering great knits/sweaters that offer the best of everything: style, quality, and at the right price.
LL: Describe your clothing. What is your concept?
Jane: The clothes really transcend many categories, age, style, etc. A sweater can take many forms, shapes, and function for the wearer. Our concept is to create such pieces so every woman can incorporate into her closet and lifestyle.
LL: Where and how are your designs best worn?
Jane: Let's face it; a sweater doesn't belong on the red carpet. Well, except maybe some of our pieces this holiday that incorporate fur collars and sequencing (please anticipate). However, many of the celebs have been seeing our sweaters doing their everyday routine, going to lunch, shopping, just running around town. Hence the lifestyle answer of question #3. As a mom, I feel like any sweater from the collection can serve such a great dual purpose, keeps you warm and adds to your "look." However, I don't mean to downplay the collection to be your V-neck or crew neck pullovers. No, no, we make sure that every piece is special and can stand on its own. Whether you are wearing jeans + tee, a maxi dress, or leggings and a tunic, our sweater will be the centerpiece that pulls everything together as to make your whole look stand out.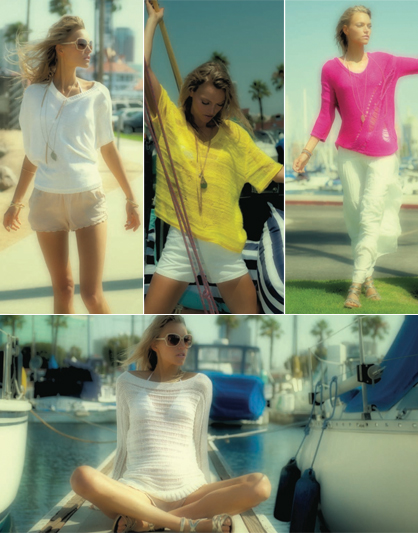 via a+ro
LL: What do you think your collection brings to the marketplace that is lacking?
Jane: Great designed knits that's attainable by many. Easy pieces that works across boundaries.
LL: Where do you get your inspiration?
Jane: Street fashion, bloggers, vintage... not to sound cliché... I love the Spitalfields area in London for both people watching and vintage shopping.
LL: What most attracts you about knitwear?
Jane: Versatility and history. Hand knitting is so interesting in its history in different cultures; versatility in the modern times to still produce hand knitted goods as well as the modern technology's contribution to computer knit different designs. Also, it looks good on everyone: men, women, young, old.
LL: How do you pick your colors and materials? What is your design process?
Jane: It's pretty standard. I start out with the color palette with the team. We look through our inspirational silhouettes; we nail down the hand, then get those tech packs out to get a sample in our hands. I draw a lot from what I see when I travel. (I travel a lot!)
LL: What is the future for you? What can we expect in the upcoming seasons?
Jane: We want to grow this brand to the "it" brand when it comes to knitwear, and eventually would love to broaden categories. We are gearing up for Fall/Holiday 2012. Expect to see oldies but goodies along with a few new concepts you haven't seen from us last season, i.e., sweater coats, sweater dresses, sweater bottoms...
For more information, check out a+ro Facebook page.

Tagged in: lux exclusives, knitwear, q&a, knits, jane moon, a+ro,