Queen Mary Decorates Long Beach with 9th Annual Art Deco Fest
During Labor Day weekend from August 30 to September 2, those aboard The Queen Mary in Long Beach, Calif. had the opportunity to become immersed in another time period. Attendees of the 9th Annual Art Deco Festival cruised back in time to the golden age after stepping onboard the largest Art Deco collection in the world. In association with the Art Deco Society of Los Angeles, The Queen Mary held its festival to celebrate the art form that influenced design of the visual arts, furnishings, fashion, architecture and even ocean liners for almost a century.
"We're growing the festival," said John Thomas, The Queen Mary historic resources advisor and president of the Art Deco Society of Los Angeles. "We continue to restore The Queen Mary, perhaps the best living monument to Art Deco, and every year our festival draws more people because of its authenticity."
After nearly doubling last year's attendance, this year's festival proved to be the largest in its history. Epitomizing an art movement at its peak, the festival offered a full array of events and gatherings aboard the ship which exposed thousands of people to the culture and time period of Art Deco. Deco devotees got gussied up in period pieces and vintage attire making the festival's era come to life even more.
"Art Deco defines a visual expression, mindset, and lifestyle of an era," Thomas said. "What better place to stage an Art Deco event. There are prime examples around every corner. We appeal to a broad spectrum of enthusiasts, students, tourists, curiosity seekers, and philanthropists. We're preserving an art form, while conserving The Queen Mary."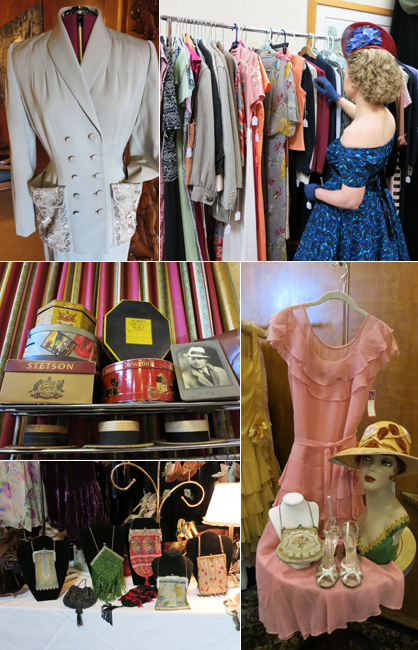 Once attendees boarded the ship for the festival, they participated in Deco-inspired events like the Auto Display offering up-close-and-personal views of old-fashioned cars and the Vintage Bazaar where people purchased authentic Art Deco and vintage apparel, accessories, art, unique merchandise and collectables from vendors. They could also join in on an Art Deco Strolling Tour which presented passengers with an inside look at original Art Deco architecture, designs and décor aboard the ship. Attendees could even dive right into Deco-related topics ranging from architecture and automotive to musicology at the Art Deco Lecture Series.
Some of the weekend's highlights were the Double Decker Vintage Bus Tour of Long Beach, a Deco-themed Pajama Derby, a re-creation of the famed Starlight Lounge, the Sunday Tea Dance and, of course, the highly-anticipated Art Deco Grand Ball featuring today's top talent of the era including Dean Mora Orchestra, Ian Whitcom and Bungalow Boys, and Jim Zeigler. One hundred percent of the Art Deco Grand Ball proceeds fund on-going Queen Mary conservation initiatives.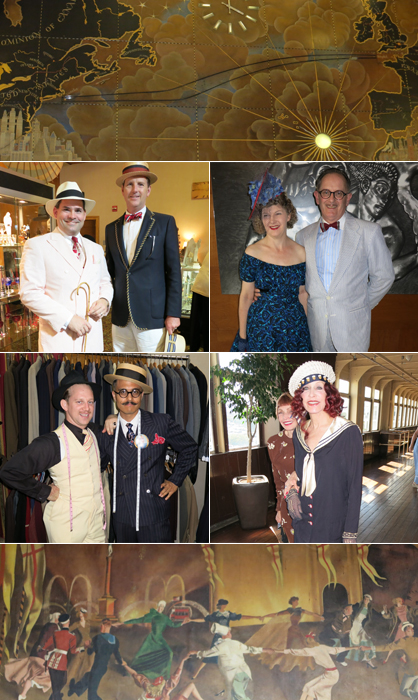 "The Art Deco Festival is one of the most significant heritage events hosted by The Queen Mary each year," explained Steve Sheldon, The Queen Mary's director of entertainment events. "In partnership with the Art Deco Society of Los Angeles, we were able to introduce a number of new elements this year, which tied directly into the celebration of the history of The Queen Mary and helped to attract Art Deco aficionados from all over Southern California to the event. Overall attendance nearly doubled this year and we look forward to continuing to incorporate new and time period-relevant activities to help attract new and repeat attendees year-after-year."
The Queen Mary's Art Deco Festival continued to prove that there is a solid desire to learn about popular eras of the past like that of Art Deco which had a substantial effect on art, fashion and history. Southern California natives will have to wait for the 2014 Festival and can only imagine what more will be in store!
To learn more about The Queen Mary and the Art Deco Society of Los Angeles, visit www.queenmary.com and www.adsla.org

Tagged in: event, art deco, festival, queen mary, long beach, calif.,