20 Minute Calorie Blasting Workout
Hi everyone, my name is Katie! Running makes me feel invincible…yoga makes me feel beautiful… strength training makes me feel powerful…healthy cooking fuels my lifestyle. These are my passions! Life is short and I believe in living it to the fullest.
Check out one of my favorite quick, versatile, calorie blasting, tone all over, no equipment necessary workouts!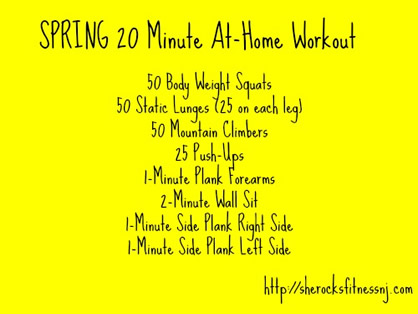 Some tips for this workout:
• After completing the circuit make sure to rest 1- 2 minutes depending on your fitness level
• Aim to complete 2 rounds of the circuit. If you are more advanced aim for 3 – 4 rounds
• Want more of a burn? Add dumbbells for the squats, lunges, and wall sit.
• Hydrate before, during, and after.
• Have fun with this and get ready to sweat!
Try it out and feel free to reach out to me at sherocksfitness@gmail.com with any questions or comments. I LOVE hearing from all of you!
For more fitness tips, keep up with Katie on Twitter and Facebook.
---
Katie is the owner of She Rocks Fitness, which specializes in personal training, boot camps, and online training. Whether you're a new mom, a bride to be, the woman who wants to train for her first 5k, or wanting to loose those annoying 10 pounds, she will help you achieve these goals. She Rocks Fitness is about training hard and eating well, while still being able to enjoy life and have fun!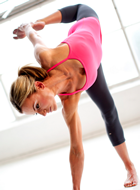 Tagged in: wellness, exercise, fitness, health, workout, she rocks fitness,