Rachel Zoe kicks off new collection at Neiman Marcus
It's almost as if superstar stylist Rachel Zoe doesn't believe in downtime. It is just not in her DNA. In addition to her already hectic plate of styling Hollywood's most sought-after celebrities, producing her hit reality show "The Rachel Zoe Project," working as a style consultant for Piperlime.com, overseeing the Rachel Zoe QVC line, and fronting on "Ask a Stylist" on WhoWhatWear.com, the star added to the mix her new line, The Rachel Zoe Collection, and, of course, being a mother to her adorable new son. Now that's major.
It's been an eventful year for Zoe, to say the very least, and somehow she still finds the energy to wear 6-inch heels.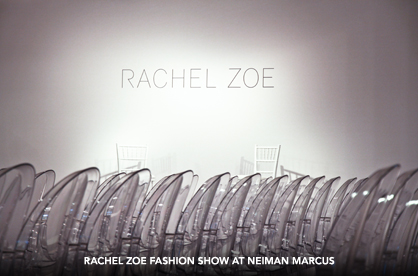 LadyLUX via Annette Tang
On Aug. 25, an impeccably dressed Zoe arrived at Neiman Marcus in Fashion Island in Newport Beach, Calif., her third stop in Southern California, for a meet-a-greet and fashion show to introduce her new collection. The usually calm department store had turned into a fashion circus that Thursday afternoon. The parking lot was jam-packed as if it were the last day of Christmas shopping. Several dozens of fans came dressed in their most stylish outfits and towering heels to honor the style icon and hopefully score a front row seat to the fashion show. This was their "church."
Backstage with her vice president Mandana Dayani and design director Eric Sartori, Zoe – dressed in her signature floor-sweeping, black, wide-leg pants and a sparkling sequin cardigan, both from her new collection – took a quick moment to collect herself with a cup of tea before sharing her thoughts on the exciting new chapters in her life.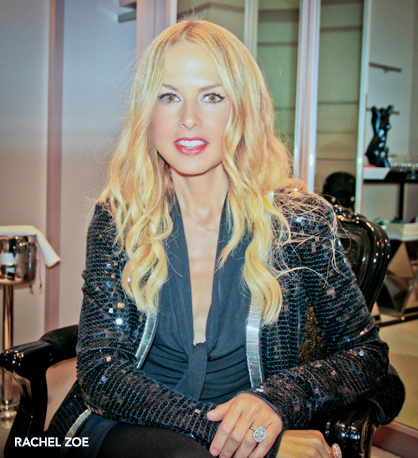 LadyLUX via Annette Tang
Zoe found inspiration for The Rachel Zoe Collection through her personal love for vintage, the chic Parisian Girl, the Charlie Girl of the '70s, and the effortlessly cool Downtown/London girl. The result: a detail-oriented, cohesive mix-and-match line of wide-leg pants, sexy ankle boots, print dresses, tie-neck blouses, gold button military jackets, a tuxedo jumpsuit, versatile handbags and, of course, fur jackets and vests – without which it wouldn't be "Rachel."
When they started the collection, Zoe explained she jumped into the design seat beside Sartori and became involved in the collection – A LOT.
"I had my hands very, very in it because it's really close to my heart. Anything that I do, I am going to be very hands on with it, or it wouldn't make sense to me. I wouldn't ever want to put my name on something that isn't something I did myself," Zoe said.
In the corner of the room, Sartori smiled and nodded vigorously in agreement, his eyes never leaving his Blackberry.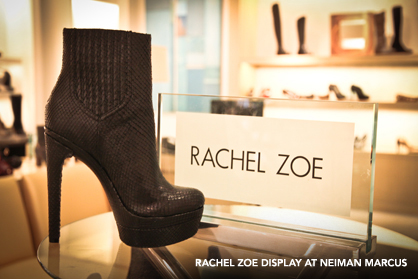 LadyLUX via Annette Tang
Zoe worked hand-in-hand with Sartori to create each concept, find the perfect materials, review the prototypes, complete the fittings and approve every final product in the collection. The celebrity stylist insisted that the line must be affordable luxury, with price points falling between $200 and $800. For a third eye and to tap someone with more than a lifetime's worth of experience in the fashion industry, Zoe turned to Ken Downing, a personal close friend and fashion director of Neiman Marcus. Downing flew out to California from Dallas, to review the line and consult with Zoe about fabric weights, advising her to choose materials with her home – warm, sunny Southern California – in mind.
The Neiman Marcus fashion director was so impressed by the collection that he picked it up for all the luxury department store's 41 doors, as well as online.
Downing gushed, "I believe in the power of Rachel Zoe. I believe in the power of her style, and the power of her name. She has really delivered on fashionable clothes with a perfect price point."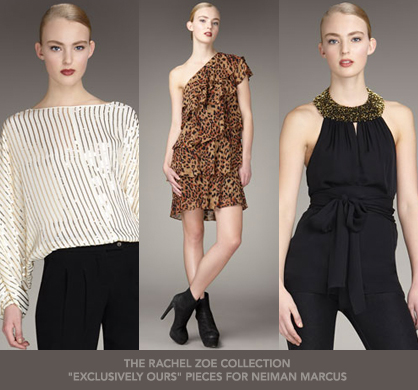 LadyLUX via Neiman Marcus
Sequined dolman top, ruffled panther-print dress,
beaded halter top
Downing's love for The Rachel Zoe Collection was apparent when he chose his favorite look from the collection – a white tuxedo – for the cover of the October issue of Neiman Marcus' magazine, The Book. The duo also collaborated to offer "Exclusively Ours" pieces for the store and hosted the in-store event together.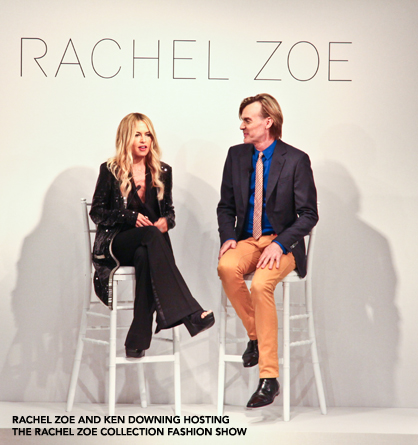 LadyLUX via Annette Tang
The avant-garde stylist-turned-designer has found she enjoys every element of each new chapter in her life. "I love it, but not more than styling. It's just different than … It's a different world and a totally different mindset. It's a new challenge," she explained.
And clearly Zoe likes challenges. She started styling, her first love, more than 15 years ago, without any formal training. Today she has spun her success into an extraordinary fashion empire that revolves around vintage jewelry, fur, her polished yet bohemian style and her never-ending creativity. Yet somehow, this creative wonder never seems to have a shortage of ideas.
"Fashion excites me," she disclosed. "Style excites me. It puts me to bed at night and wakes me up in the morning – although I have to say my son kind of took over that job."
Sweet, five-month-old Skylar has that effect. Zoe explained that she wants to spend all her free moments with her son, opting for quality family time instead of facials. The new mother always misses her baby when she isn't with him and melts on command at the sound of any baby crying.
"There is nothing I don't like. I love when he spits up on me. He's all I think about. He's like an angel from heaven," she revealed.
The fourth season of "The Rachel Zoe Project" will start Sept. 6 on Bravo TV with more styling, drama and a very pregnant Zoe preparing for motherhood. Zoe chooses to spend her precious pregnant months in front of the cameras to be captured for the world to watch, which may not be the optimal choice for most women, but she just goes with it, is as open as ever and finds humor in herself.
"I just feel like it's helped with my life, to just be honest. To be open and wear your heart on your sleeve," the designer said. She brings this aspect of herself to her show, and her fans adore her for it.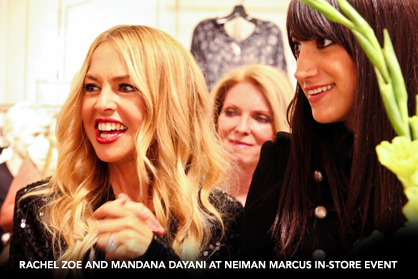 LadyLUX via Annette Tang
Zoe promises this season's show will also have many surprises and great new members of the company. "They are really interesting people," she said coyly, pointing to the brunette across the room and winking. "Mandana, that hot chick, being one of them."
It's probably with this sense of humor that Zoe has managed to add these chapters to her life and "do it all": have a wildly successful career and beautiful family while inspiring woman of all ages to wear fur.
This article was contributed and photographed by Annette Tang of the VersaStyle. You can follow Annette and her fashion adventures on Twitter at @theversastyle.
Tagged in: lux exclusives, neiman marcus, fashion island, rachel zoe, stylist, the rachel zoe collection,