Radar: Givenchy says 'Ciao' to couture shows
Starting July 6, Givenchy will mark the end to their haute couture runway shows and only let lucky editors a preview through private appointments. Plus, Riccardo Tisci, Givenchy's famed courterier plans to limit the pieces to 10, versus the 20 or so looks you might see in a public presentation. He told WWD, "I want to make couture even more special than it is, and not just another catwalk show." However, Givenchy isn't trying the tactic to save a buck. Tisci said the strut off the catwalk could end up costing the fashion house upward of 35 percent more. How is that possible? Well, alongside Pierre-Yves Roussel, CEO of LVMH Moët Hennessy Louis Vuitton's fashion devision, Tisco plans to have Willy Vanderperre photograph a lookbook, which may include top models such as Lara Stone and Mariacarla Boscono. His presentations won't be a dull rolling rack, he will show off the collection to editors by dressing live models and mannequins.
Since Givenchy has some very high profile clients, such as celebrities and royalty, that tend to avoid public shows due to security… Tisci believes the change won't pose a huge obstacle to the couture line. If anything, it'll show dedication to "special, high-level service" for their noted admirers.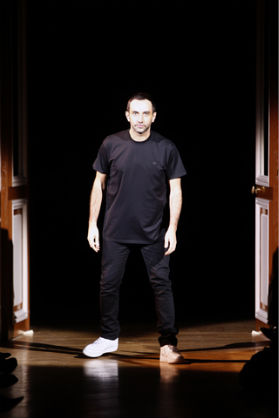 Riccardo Tisci at Givenchy Couture Spring 2010
Did Tisci divulge any secrets about his new season? "It's the first time I'm not doing any black," he told WWD. He believes the lack of the dark hue will pose a needed challenge, one that he is excited to take.
Their intimate connection with big name clientele isn't stopping at the shows, Roussel and Tisci are also contemplating some collaborations. Although they would leak that the partnership would start with high jewelry, they wouldn't drop a name.
If anything, Tisci believes couture is evolving the way it should be. "After a crisis, a new era always starts…For couture, it's going to go back to being very exclusive."
Tagged in: fashion, paris, givenchy, haute couture,