Radar: J. Crew's Madewell goes online
Although the casual-chic brand has been around for four years, the launch of Madewell's web site will give most shoppers a first glance at the J. Crew brand. With only 17 shops nationwide, Madewell was envisioned as a shop with a core group of followers with an in-the-know vibe. Like his sister stores, such as Gap and Banana Republic, Madewell is slowing growing into the family name. J. Crew chairman and chief executive officer, Millard "Mickey" Drexler, told WWD, "Madewell is… unknown, except there is a core group of followers around America who know it and are buying it."
However, going digital will definitely pull the brand out of obscurity. Online since May 27, Drexler and his team remained mum at first, not discussing the big debut. A smart move on his part, he wanted to quietly watch the public's response without press nudging the way. "We watch it real close like we watch the launch of any J. Crew business. Every day you get tons of feedback," he said.
Due to bad economic timing, Madewell isn't doing so well compared to the other J. Crew brands. Several store openings have happened in the last 18 months, which have been infamously lacking in consumer spending. Drexler said, "It's dependent on two things: how quickly we make new store deals and how successful our online site becomes." Obviously the latter has become much more important.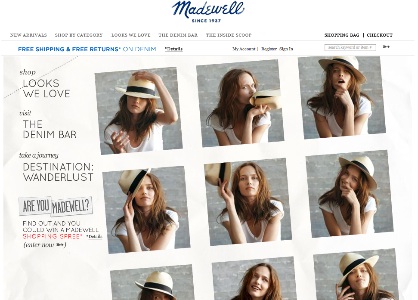 The site features an array of photo booth-inspired pictures of a cute young lady in a straw fedora. It's hard to say how the brand, which is already synonymous with denim and wovens, will separate itself from Gap, Banana Republic and J. Crew. Just like the sister companies, Madewell is creating a brand known for staple items such as skinny jeans, cotton blazers, chambray shirts and loose fitting knits. However, their "Wanderlust" section offers up something a little different. Created by former fashion editor, Elizabeth Keister, the "Wanderlust" collection features Cambodian-inspired bohemian looks, all in comfortable cuts and wrinkle-free fabrics, perfect for the wandering traveler.
Take a look at the web site at Madewell.com and let @ladylux know what you think on twitter!
Tagged in: clothing, denim, jeans, gap, madewell, j. crew,