Raven + Lily empowers women and changes lives with creative design partnerships
Some dreams do come true. In June 2011, Kirsten Dickerson and Sophia Lin made their dream of combining fashion design with the hope of alleviating poverty among women around the world a reality with the launch of Raven + Lily. The Austin, TX brand was launched in partnership with female artisans in Africa and India that Dickerson had previously met during years of travel and with several Los Angeles designers who also share the same passionate dream. Through the collective dedication of all the women, Raven + Lily has made many more dreams come true as it became a socially responsible lifestyle brand dedicated to empowering women through creative design partnerships and sustainable economic opportunities.
"I truly believe in the model of creating sustainable income opportunities for women, not just charity or hand-outs. Each woman is valuable and needs to know that!" Dickerson declared. "Raven + Lily provides opportunity to bring hope and dignity into the lives of women who have suffered deeply. The beauty of the products we sell is a reflection of the beautiful woman who made it and how her life is changing."
In creating the company name, Dickerson and Lin wanted to capture the beauty and dignity of the women involved. Inspired by the well-known passage from Luke 12, they felt a special connection with the comparison of the raven and lily to people.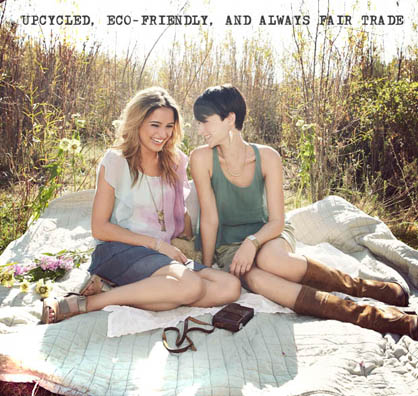 LadyLUX via Raven + Lily
"The passage says we shouldn't worry about what we will eat or drink because God cares for the ravens and we are so much more valuable than birds. He also says to look at how beautiful the lilies are yet they are here today and gone tomorrow, and even we are more valuable than the flowers," Dickerson explained. "We feel that the value God sees in His creation, including ravens and lilies, reminds us how much more valuable we are as women."
Dickerson and Lin are not the only ones who see value in women or Raven + Lily. In the short time since the brand has launched as a social business model rather than a nonprofit, as it was previously, it has proven to be an effective and sustainable approach. In addition to providing jobs for the women in their partnerships, the business model uses the proceeds to assist in funding education, healthcare and micro-loans to further transform the lives of underprivileged women and families. The duo believes that the more women are empowered, the more their families and communities will benefit.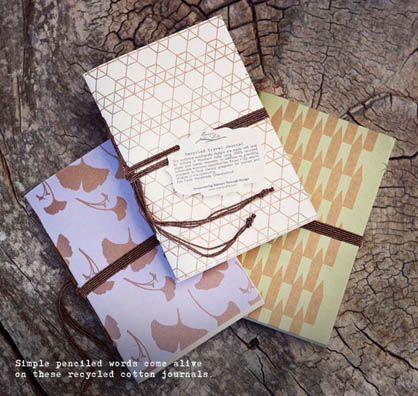 LadyLUX via Raven + Lily
"It's truly inspiring to see the growth and we hope it continues. I think we feel like we're just in the very beginning stages. We have so many hopes and dreams for seeing ways that more women can be empowered through design. We went from a tiny non-profit to a growing, start-up social business model," said Dickerson about their continuing success. "Our goal is to be as profitable as possible so that we can support as many women as possible."
This Spring the artisans of Raven + Lily have released a special collection of scarves as well as their seasonal collection. The unique scarves are crafted from locally sourced cotton and hand-loomed by Ethiopian women who were former fuel wood laborers. Prior to Raven + Lily, these women would carry a 100-pound load of sticks to sell as fuel up and down a mountain for less than a dollar. Years ago, with the help of a micro-loan from a large group of investors, the women were able to learn hand-looming, a traditional artisan craft in Ethiopia, to provide an alternative. However, even with their new skill, there were no employment opportunities for them because of the saturated local markets.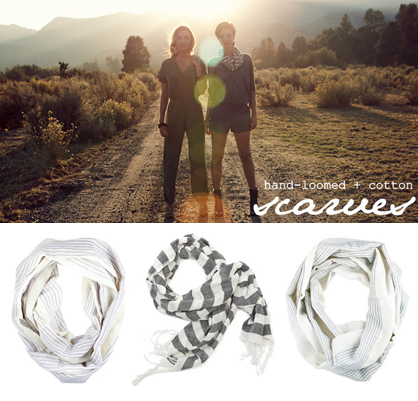 LadyLUX via Raven + Lily
"Through our partnership with Connected in Hope Foundation, we are helping to create a Western market for these scarves so that these beautiful women can finally begin to receive economic and educational opportunities, enabling their families to thrive. We just launched this lovely new collection, and my personal favorite is the infinity scarf. I wear it often," shared Dickerson.
The collection offers striped scarves as well as airy infinity circle scarves in lilac and white or black and white.
Alongside the scarves, Raven + Lily's Spring/Summer 2012 collection features exclusive handmade and eco-friendly jewelry and accessories that are divided into two sub-collections: the India Collection and the Ethiopia Collection.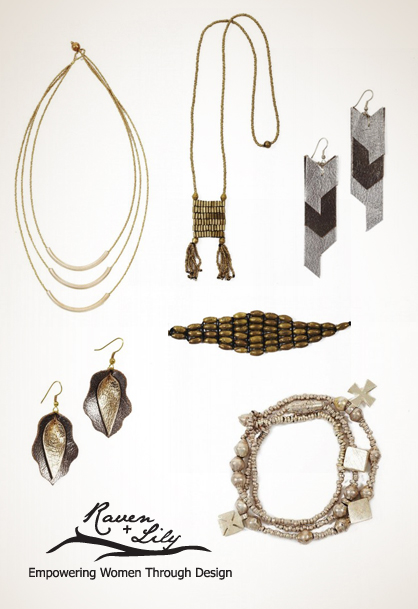 LadyLUX via Raven + Lily
The India Collection boasts gorgeous recycled note cards and gifts tags, hand-carved wood journals, luxurious metallic leather jewelry and hand-milled natural soaps. Each piece seeks to empower marginalized Muslim women in Northern India.
Traditionally, bullets are made for harm, but the Ethiopia Collection has turned them into jewelry made for good. Crafted by HIV positive women in Ethiopia, statement necklaces, earrings and bracelets were created with handmade beads and charms formed from melted bullet casings and vintage silver coins.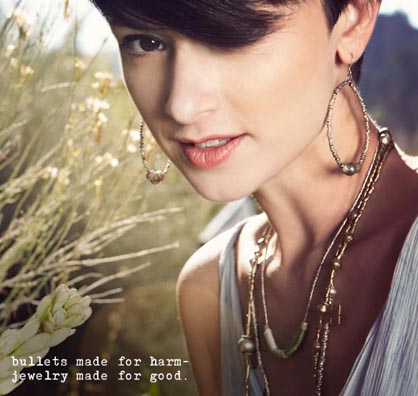 LadyLUX via Raven + Lily
Each piece within the collections has a personal connection to its artisan. Through the Raven + Lily website, consumers can get to know the creators, their stories and even learn how the pieces are made.
"I was living in death. I am changed because of this program and now I am called to help other human beings," said Amleset, one of the hundreds of women involved in the production.
Despite the challenging journey it has been to launch and grow Raven + Lily, it has been a heartwarming experience for Dickerson and Lin. For them, the testimonies of women from the partnerships have made it all worthwhile.
"When I think of the women whose lives are impacted by our efforts, my heart is deeply satisfied. We had the program director from Ethiopia visit our office today so that key volunteers and a local shop owner could hear directly from her how our partnership is making a difference," said Dickerson. "I loved that she could also hear from the women who attended how Raven + Lily had made a difference in their lives too. Lives on both sides of the globe are being touched, and that is incredible."
From now until March 30, Raven + Lily will be offering free shipping on the newly released scarves. Please enter the code RLscarf upon checkout to take advantage of this promotion!
Please click here to visit their website.
Tagged in: lux exclusives, jewelry, accessories, artisans, fair trade, kirsten dickerson, social business model, sophia lin, eco-friendly jewelry, hand-loom scarves, raven + lily, austin, tx,