Resort 2013: Alexander McQueen
Sarah Burton has been pushing the limits at Alexander McQueen. She has a way of embracing a theme to its fullest, a strategy perhaps best illustrated in the Fall 2012 collection of over-the-top "exploding pod" gowns. For Resort 2013, Burton refocused with inspiration from David Bowie and Art Deco for a clean, sleek lineup of trouser suits and tailored dresses. Oh and of course, it was extreme.
"I wanted to bring everything back to the body," Burton said at a preview in her London studio to Style.com. "The proportions are extreme: high waists, an elongated leg, a peaked shoulder. There's a harder, more precise, masculine edge that's a reaction to the roundness and the sickly-sweet femininity of the last collection."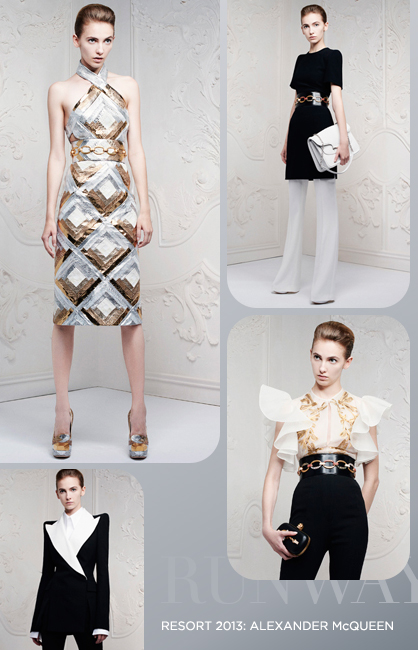 It was a 180 from last season's feathery light, puffy silhouettes. This Resort season offered its share of chic ensembles: fitted silvery, masculine-yet-feminine flared trousers paired with matching blazers and trench coats; sleeveless wide-leg jumpsuits; and strapless knee-length dresses – all belted at the waist with wide hardware styles.
While the silhouettes of the collection were strong and powerful – as McQueen always is – the detailing was most impressive. Gild multi-metallic jacquard and meticulously embroidered silver dots juxtaposed with a dragonfly theme captured the Art Deco inspiration. Black suit jackets had lapels and piping of trompe l'oeil encrustations of beading while jumpsuits were embroidered with florals and birds.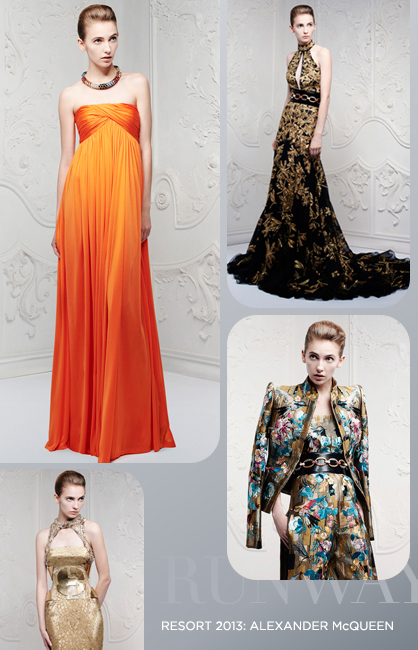 Burton's eveningwear didn't skip a beat with slender, form-fitting gowns that almost appeared painted on. Halter and strapless styles in gold and black were finished with opulent trims and all-over adornments.
It was definitely a more extravagant side of Resort.
Tagged in: london, alexander mcqueen, runway, resort 2013, resort wear, sarah burton,